Kimsufi – KS-2E 特价机 Dedicated 优惠信息only 6.99 EUR每月 – AtomN2800 – 4GB – 1x2To SATA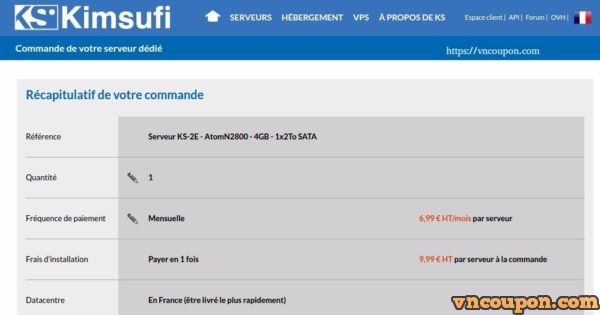 Kimsufi has flash sale, 独服 KS-2E. If someone looks for good deal.
Dedi Specifications
Intel Atom™ N2800
2c/4t @ 1.86 GHz+
4GB DDR3 ECC
1x2To SATA Hard disk
6.99€ without vat,
9.99€ 安装费 一次性.
You can exempt VAT if you are outside of EU.
About Kimsufi
To guarantee the best prices, Kimsufi has chosen to keep 仅 essential components、services. Kimsufi are now sold directly、via thousands of resellers over 5 continents.
Kimsufi servers benefit from OVH datacentres located in North America、Europe, as well as the商家's own global fibre-optic network with anti-DDoS technology. The Kimsufi quality of service is approved by thousands of users.