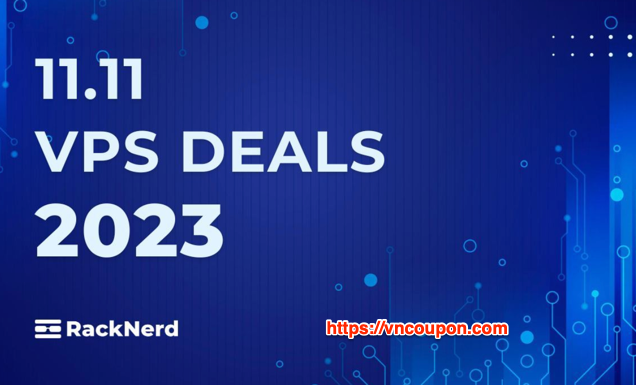 RackNerd has sent us an attractive VPS 优惠信息on 11.11 SPECIALS DAY.
11.11 deals feature KVM VPS with pure SSD storage, RAID-10防护. You can deploy these out of 7 different strategic datacenter位置: 圣何塞, Seattle, Dallas, 芝加哥, 纽约,、Atlanta. Additionally, 2 GB套餐、higher are eligible to be deployed out of our 洛杉矶 DC-02 location (亚洲优化线路 location).
VPS套餐 are instantly set up! CentOS, Rocky Linux, AlmaLinux, Fedora, Debian、Ubuntu Supported. Custom ISO's can also be mounted via support ticket.
=> New 黑色星期五 2023 deals: 点击这里
11.11 特价机 VPS Offers
[11.11.23] 1 GB KVM VPS
1x vCPU Core
12 GB SSD Storage
1 GB RAM
2000GB每月 Premium 流量
1Gbps Public Network Port
Full Root Admin Access
1 Dedicated IPv4 Address
KVM / SolusVM 控制面板 – Reboot, Reinstall, Manage rDNS, & much more
Available in 多机房!
JUST $11.00每年 – WOW!!
INSTANTLY DEPLOYED
[11.11.23] 2 GB KVM VPS
1 vCPU Core
20 GB SSD Storage
2 GB RAM
4000GB每月 Premium 流量
1Gbps Public Network Port
Full Root Admin Access
1 Dedicated IPv4 Address
KVM / SolusVM 控制面板 – Reboot, Reinstall, Manage rDNS, & much more
Available in 多机房!
JUST $17.55每年 – WOW!!
INSTANTLY DEPLOYED
[11.11.23] 3 GB KVM VPS
2 vCPU Cores
35 GB SSD Storage
3 GB RAM
5000GB每月 Premium 流量
1Gbps Public Network Port
Full Root Admin Access
1 Dedicated IPv4 Address
KVM / SolusVM 控制面板 – Reboot, Reinstall, Manage rDNS, & much more
Available in 多机房!
JUST $28.31每年 – WOW!!
INSTANTLY DEPLOYED
[11.11.23] 4 GB KVM VPS
3 vCPU Cores
45 GB SSD Storage
4 GB RAM
6000GB每月 Premium 流量
1Gbps Public Network Port
Full Root Admin Access
1 Dedicated IPv4 Address
KVM / SolusVM 控制面板 – Reboot, Reinstall, Manage rDNS, & much more
Available in 多机房!
JUST $38.77每年 – WOW!!
INSTANTLY DEPLOYED
Other 优惠信息
Payment Methods
PayPal
Credit Card
支付宝
Cryptocurrency (BTC, LTC, ETH, USDT)
Boleto
India UPI
India Netbanking
iDEAL
Wire 流量
银联卡
WebMoney
Unionpay International
Zelle
Looking Glass