Kimsufi OVH – 特价机 独服 from €3.99每月 – [Flash Sale] Server KS-7 仅 €8.99每月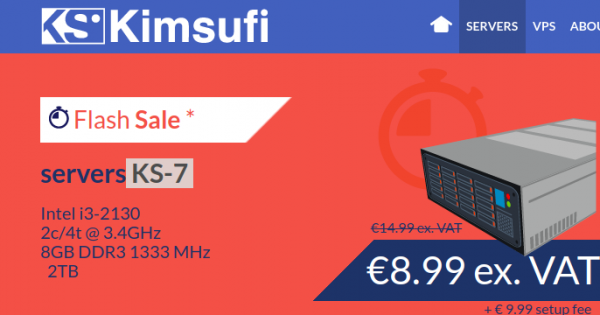 To guarantee the best prices, Kimsufi has chosen to 仅 keep the essential components、services. Kimsufi are now sold directly、via thousands of resellers over 5 continents.
Kimsufi servers benefit from OVH 数据中心s located in North America、Europe, as well as the hosting商家's own global fiber-optic network with anti-DDoS technology. The Kimsufi quality of service is approved by thousands of users.
特价机 优惠券 Codes: 
优惠25% of all KIMSUFI's product with the 优惠码 : KS-FORUM-DEC17 Also,可用 for 1 product per user.
Server Flash Sale
终身优惠40% on KS-7 独服. Offer valid until May 29th
KS-7
Intel i3-2130
2c/4t @ 3.4GHz
8GB DDR3 1333 MHz
2TB流量

€

14

.99 €8.99 ex. VAT + € 

9

.99 安装费
特价机 独服 Table 优惠信息
独服 at unbeatable prices, available in 120 seconds, Anti-DDos防护、connected to a high performing global network.
Great news on Kimsufi ! We made a new range of 独服, including 4 new servers + lower prices on all others servers !
From 3,99 € HT 每月 (ie 4,80 € VAT included)
点此购买: https://www.kimsufi.com/en/servers.xml
Details: 
KS-1 Atom D425 – 2GB DDR3 1066 MHz – 500GB SATA 3,99€
KS-2 Atom N2800 – 4GB DDR3 1066 MHz – 1TB 4,99€
KS-3 Atom N2800 – 4GB DDR3 1066 MHz – 2TB SATA 

€

5

.99 ex. VAT
KS-4 Atom N2800 – 4GB DDR3 1066 MHz – SoftRAID 2x 2TB SATA 13,99€ (NEW)
KS-5 AMD Opteron 4122 – 16GB DDR3 1333 MHz – 2TB SATA 13,99€
KS-6 Intel i5-750 – 16GB DDR3 1333 MHz – 2TB SATA 14,99€
KS-7 Intel i3-2130 – 8GB DDR3 1333 MHz – 2TB SATA 14,99€
KS-8 Intel i7-920 – 16GB 1333 MHz – 2TB SATA 15,99€
KS-9 Intel W3520 – 16GB DDR3 ECC 1333 MHz – 240GB SSD 16,99€ (NEW)
KS-10 Intel i5-2300 – 16GB DDR3 1333 MHz – 2TB SATA 18,99€
KS-11 Intel W3520 – 16GB DDR3 ECC 1333 MHz – SoftRaid 2x2TB SATA 19,99€ (NEW)
KS-12 Intel W3520 – 32GB DDR3 ECC 1333 MHz – SoftRaid 2x2TB SATA 24,99€ (NEW)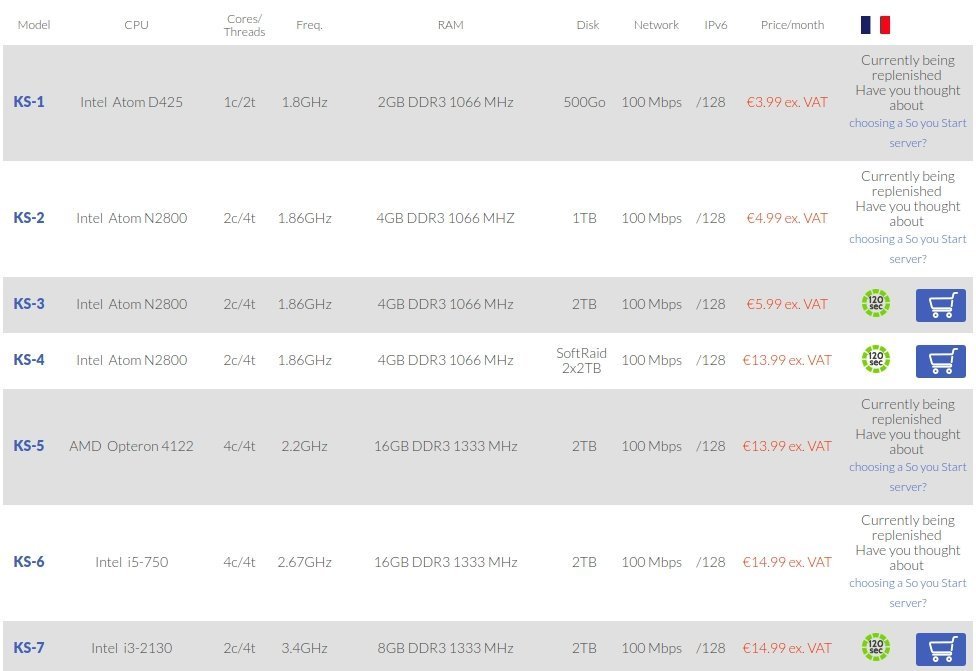 Services included with your server