VirMach – 年付 钜惠 SSD VPS 最低 $3每年 – 免费Windows on KVM VPS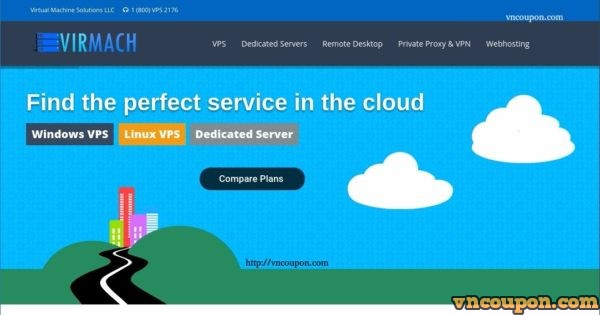 VirMach has been offering flawless VPS services since 2014.
VirMach offer services in multiple datacenters all across the US. Their newest line of plans include pure SSD (RAID 10) storage. Many of their new位置 now also have DDR4 内存、they have the newest line in E5 servers. They use SolusVM for management.
优惠券 updated on 三月 12, 2019 
Enter Konami code to show 优惠券 field.
What is the Konami Code?
Enter keyboard keys to show 优惠券 field in Shopping Cart page.

Virmach Flash Sale
Get an extra 优惠30% your first term by selecting Buffalo. More位置 will be added throughout the holiday season, but quantities are limited.
优惠40% – SSD512 to SSD8G Packages
512MB to 8GB 内存
1x vCPU @ 2GHz to 4x vCPU @ 3GHz
15GB to 100GB SSD (RAID 10)
1TB to 6TB流量
1Gbps to 10Gbps可用
1x Dedicated IPv4
KVM/SolusVM
Windows & Linux (Windows +$2)
最高50Gbps DDoS防护 in Buffalo, NY
优惠券:

LEB40BF2018

Starting 最低 $1.50/mo or $15每年 (优惠60%)
WEB SHARED-HOSTING 1
128MB 内存
1x vCPU @ 20%
1GB SSD (RAID 10)
100GB流量
1Gbps Uplink
Shared IPv4
cPanel/Litespeed
最高50Gbps DDoS防护
优惠券:

LEBVPSHARED67

(

FREEWEBHOSTING

for Existing Customers)
$0.99每年 (LIMITED STOCK)
STORAGE-1T
1GB 内存
1x vCPU @ 2GHz
1 TB HDD (RAID 10) ~930GB Usable
5TB流量
10Gbps Uplink
1x Dedicated IPv4
KVM/SolusVM
优惠券:

LEBSTORAGE25

 (Only 年付)
$45每年 ($25 OFF – EXTREMELY LIMITED)
OpenVZ 特价机 Offer 
Offers fully expire on 三月 31, 2019
★ 128MB 内存 OVZ  特价机★
128MB 内存
5GB Disk (SSD RAID 10)
100GB流量
1Gbps Port
1 vCore @ 1GHz
1 IPv4
SolusVM/OpenVZ
$3 年付
★ 128MB 内存 OVZ ★
1 vCore @ 1GHz
10GB Disk – SSD RAID 10
250GB流量 @ 1Gbps
1 IPv4 – Additional可用
SolusVM/OpenVZ – Linux
$10 USD 年付
$7 USD 年付 with 优惠券: 

LEB30
★ 256MB 内存 OVZ ★  (HOT)
256MB 内存
1x vCPU @ 1GHz
15GB SSD space
250GB 流量
1Gbps uplink
1x IPv4
OpenVZ/SolusVM
$10每年
$7每年 with 优惠券: 

LEB30
★ 384MB 内存 OVZ ★ 
384MB

1 Shared Intel vCore

12GB

250GB @ 1Gbps

1 Dedicated IP

SolusVM/OpenVZ
$6.7 年付
点此购买 (售罄)
★ 512MB 内存 OVZ ★
2 vCore @ 1GHz
20GB Disk – SSD RAID 10
1TB流量 @ 1Gbps
1 IPv4 – Additional可用
SolusVM/OpenVZ – Linux
$2.25每月
$2.1每月 with 优惠券: 

LEB30

$18.9 年付 with 优惠券: 

LEB30
★ 1GB 内存 OVZ ★
2 vCore @ 1.0GHz
30GB Disk – SSD RAID 10
2TB流量 @ 1Gbps
1 IPv4 – Additional可用
SolusVM/OpenVZ – Linux
$4每月
$2.8每月 with 优惠券: 

LEB30

$28 年付 with 优惠券: 

LEB30
★ 2GB 内存 OVZ ★ 
2 vCore @ 1.5GHz
50GB Disk – SSD RAID 10
3TB流量 @ 1Gbps
1 IPv4 – Additional可用
SolusVM/OpenVZ – Linux
$7 Monthly
$4.9每月 with 优惠券: 

LEB30

$49 年付 with 优惠券: 

LEB30
★ 8GB 内存 OVZ ★ 
2 vCore @ 1.5GHz
100GB Disk – SSD RAID 10
4TB流量 @ 1Gbps
1 IPv4 – Additional可用
SolusVM/OpenVZ – Linux
$12每月
$8.4每月 with 优惠券: LEB30
$84 年付 with 优惠券: LEB30
KVM 特价机 Offers
Offers fully expire on 三月 31, 2019
★ 128MB 内存 KVM ★
128MB 内存
1 CORE
10GB SSD
500GB BW
1GBPS
KVM Virtualization
SolusVM
12 USD 年付
★ 256MB 内存 KVM ★
256MB 内存
1 CORE
10GB SSD
500GB BW
1GBPS
KVM Virtualization
SolusVM
$0.87 每月with 优惠券: 

LEB30

$8.75 年付 with 优惠券: 

LEB30
★ 512MB 内存 KVM★
1 vCore @ 2GHz
15GB Disk – SSD RAID 10
1TB流量 @ 1Gbps
1 IPv4 – Additional可用
SolusVM/KVM – Linux
$2.5每月
$1.75每月 with 优惠券: 

LEB30

$17.5 年付 with 优惠券: 

LEB30
★ 1GB 内存 ★ Windows可用 
1GB 内存
1x vCPU @ 2GHz
20GB SSD space
1TB 流量
1Gbps uplink
1x IPv4
KVM/SolusVM
Windows 2008/2012可用 (Licensed, + $2 USD fee)
$3.5每月 with 优惠券:

LEB30

 (Linux OS)
$4.9每月 with 优惠券:

LEB30

 (Windows OS)
★ 2GB 内存 KVM ★ Windows可用 free
1 vCore @ 2GHz
35GB Disk – SSD RAID 10
2TB流量 @ 1Gbps
1 IPv4 – Additional可用
SolusVM/KVM – Linux/Windows (Licensed, free)
$7.0每月 with 优惠券: 

LEB30

 (Linux OS)
$8.4每月 with 优惠券: 

LEB30

 (Windows OS)
★ 4GB 内存 KVM ★ Windows可用 free
4GB 内存
3x vCPU @ 2GHz+
50GB SSD space
3TB 流量
1Gbps uplink
1x IPv4
3x IPv6 (where可用)
KVM/SolusVM
Windows可用 (Licensed, Free)
$14每月 with 优惠券: LEB30
$140 年付 with 优惠券: LEB30
★ DDoS防护 ★ 500Gbps Voxility防护, Filtered IP,可用 on any 洛杉矶 Service – Additional $10每年
===================================================================
特价机 虚拟主机
Offers fully expire on 三月 31, 2019
Most existing/active VirMach customers, get 优惠100% the SHARED-1 package with 优惠券 code "

FREEWEBHOSTING

" — some exclusions apply*
New & existing customers get 优惠35% shared packages from VPShared with 优惠券 code "

35VPSHARED

"
SHARED-1

SHARED-5

$3每年
128MB 内存
1GB Disk (SSD RAID 10)
100GB BW @ 1Gbps
10Gbps DDoS防护
免费SSL
Shared IPv4
∞ FTP, SQL, E-mail, 域名
免费Daily Backups

$5每年
256MB 内存
5GB Disk (SSD RAID 10)
100GB BW @ 1Gbps
10Gbps DDoS防护
免费SSL
1x Dedicated IPv4
∞ FTP, SQL, E-mail, 域名
免费Daily Backups
—
SHARED-10

SHARED-20

$10每年
384MB 内存
10GB Disk (SSD RAID 10)
500GB BW @ 1Gbps
10Gbps DDoS防护
免费SSL
1x Dedicated IPv4
∞ FTP, SQL, E-mail, 域名
免费Daily Backups

$15每年
512MB 内存
20GB Disk (SSD RAID 10)
1TB BW @ 1Gbps
10Gbps DDoS防护
免费SSL
1x Dedicated IPv4
∞ FTP, SQL, E-mail, 域名
免费Daily Backups
—
ULTIMATE SHARED

VPS WEBHOSTING

1G 内存
No Limit SSD (RAID 10)
No Limit Traffic @ 1Gbps
100% Shared CPU vCore
1x Dedicated IP Address
免费域名 on Annual Purchase
500Gbps DDoS防护
免费Daily Backups
免费Let's Encrypt SSL
No Limit FTP, SQL
No Limit 域名
No Limit E-mail Accounts
$80每年

8GB 内存
100GB SSD (RAID 10)
3TB Traffic @ 1Gbps
400% Shared CPU vCore (4 Core)
2x Dedicated IP Address
免费域名 on Annual Purchase
20Gbps DDoS防护 (Optional)
免费Daily Backups (Optional)
免费Let's Encrypt SSL (Optional)
No Limit FTP, SQL
No Limit 域名
No Limit E-mail Accounts
$35每月
===================================================================
Looking Glass
My Virmach 1GB SSD KVM Benchmark (达拉斯 Location)
CPU model : QEMU Virtual CPU version (cpu64-rhel6)
Number of cores : 1
CPU frequency : 2399.996 MHz
Total amount of 内存 : 996 MB
Total amount of swap : 1023 MB
System uptime : 8 days, 21:36,
Download speed from CacheFly: 55.5MB/s
Download speed from Coloat, Atlanta GA: 54.1MB/s
Download speed from Softlayer, Dallas, TX: 60.1MB/s
Download speed from Linode, Tokyo, JP: 13.2MB/s
Download speed from i3d.net, Rotterdam, NL: 14.4MB/s
Download speed from Leaseweb, Haarlem, NL: 41.0MB/s
Download speed from Softlayer, Singapore: 3.48MB/s
Download speed from Softlayer, Seattle, WA: 31.8MB/s
Download speed from Softlayer, San Jose, CA: 39.4MB/s
Download speed from Softlayer, Washington, DC: 37.7MB/s
I/O speed : 351 MB/s