ArubaCloud Flash Promo – doubles voucher €20.00 for you now – VMware VPS 最低 €1.00每月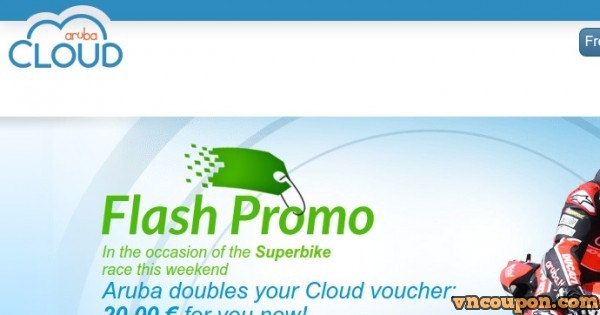 Aruba Cloud is the Cloud brand for Aruba S.p.A. in the European market.
20 € 免费credit (Expired)
Get a €2 voucher to spend on Aruba IaaS platforms over 60 days、take the chance to explore、test our products、services 100% 免费of charge.
No commitment
Thanks to this voucher, you can activate any 云服务器 or service、test them directly in a live environment. Reaching the end of your trial, you can upgrade to a paid account within 30 days.
Quick、Easy
Our cloud platforms are designed to make development easy、scalable, based on your business needs. Through your 控制面板, explore、test all features as well as get some help from our experts.
Voucher Request
https://www.arubacloud.com/free-trial-flashpromo.aspx
Required a 
VPS & 云服务器
Their Cloud VPS offer features preconfigured machines in four sizes, with elastic resources based on VMware technology、including onboard SSD storage.
最低 € 1.00每月, Aruba Cloud VPS combines 高性能s、affordability, considering these servers are located within a cloud infrastructure and, alike all our offers, technical support 24 hours/day by email、phone is included.
VPS & Cloud Plan:
Small Plan
Linux
1 Core CPU
1 GB RAM
20 GB SSD Storage
2 TB每月 transfer
wmvare powered
1,00 €每月
Medium Plan
Linux/Windows
1 Core CPU
2 GB RAM
40 GB SSD Storage
5 TB每月 transfer
wmvare powered
6,50 €每月
网络信息