Prometeus LPAR – KVM Servers Dedicated CPU for Business 最低 €8每月 – Price reduction 最高优惠30% in Netherlands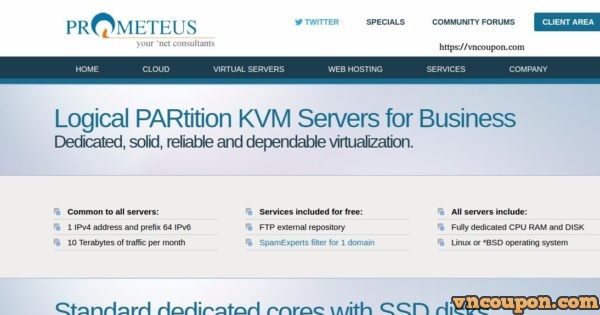 Prometeus introduce new service – LPAR, Logical PARtition KVM Servers for Business. They are pleased to offer a limited number of LPARs with a 永久折扣 of 25%, use the 优惠券 LPAR25OFF on checkout. More information、点此购买s here:
A logical partition, commonly called an LPAR, is a subset of a computer's hardware resources, virtualized as a separate computer. Each LPAR is completely independent of the other instances、can run its own Operating System、Applications.
KVM is a hypervisor running on CPU with hardware virtualization extension, providing services that allow multiple computer operating systems to execute on the same hardware concurrently. 
KVM Server Features
KVM based virtualization.
高性能 servers with the ideal mix of CPU power and内存giving you the best VPS service on the market.
Multi-homed network infrastructure 最高10Gbit/sec.
User-friendly 控制面板 that gives you full control over your VPS: start, stop, install the OS, access the console.
Dedicated resources
RAID防护 storage.
Installation from ISO or Template.
免费external FTP repository.
Full Root/Administrator Access to your Virtual Private Server.
Skilled、Friendly 技术支持.
IPv6 native network.
Standard dedicated cores with SSD disks
High Frequency dedicated cores with SSD disks
| | LPAR-12 | LPAR-22 | LPAR-32 | LPAR-42 |
| --- | --- | --- | --- | --- |
| Dedicated CPU | 1 Core @ 3.5Ghz | 2 Cores @ 3.5Ghz | 4 Cores @ 3.5Ghz | 6 Cores @ 3.5Ghz |
| Dedicated RAM | 8 GB | 16 GB | 32 GB | 48 GB |
| SSD 硬盘容量 | 100GB | 230GB | 460GB | 690GB |
| Billed每月 | €15 | €30 | €60 | €90 |
| | ORDER ITALY | ORDER ITALY | ORDER ITALY | ORDER ITALY |
Other Services 优惠信息
+ SpamExperts Antispam: 点击这里
+ High Availability MySQL Service: 点击这里
+ iwSea Storage Cloud: 点击这里
+ iwStack Cloud: 点击这里
+ 特价机 Offers: 点击这里