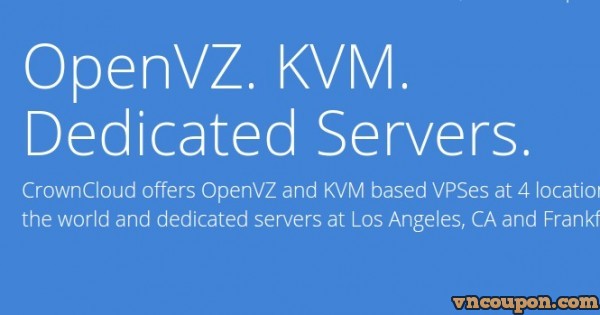 CrownCloud 提供 OpenVZ、KVM based VPSes at 4位置 around the world、独服 at 洛杉矶, CA、Frankfurt, DE.
They are been around for 5+ years、own & colocate our hardware、networking gear、have own ARIN issued IPs for US based位置. They are recently added in new storage specific hardware to our 洛杉矶, CA location、would like to share an offer with you.
VPS Features
1 Gbit/sec network (LA)
100 Mbit/sec network (德国– DE)
Dedicated RAM
8 Shared Cores of Intel Dual L5520 Processor. (LA)
4 Shared Cores of Intel E3-1270v2 (德国– DE)
1 Static IPv4
10 IPv6 (More可用 【免费】 on request)
SolusVM 控制面板 to manage your VPS!
特价机 VPS套餐
The plan (NEW)
512 MB RAM
500 GB HDD
2 core fair-share access include
3 TB 流量 per month
1 Gbit/sec upink
1 IPv4
/64 IPv6
KVM based
点此购买 (洛杉矶, CA)
Plan Details – $5每月!
256 MB Guaranteed RAM
250 GB HDD
2.5 TB 流量 @ 1 Gbit/sec
SolusVM 控制面板
点此购买 (洛杉矶)
点此购买 (Germany)
Plan Details – $7每月!
256 MB RAM
500 GB HDD
3 TB 流量 @ 1 Gbit/sec
1 CPU core
1 IPv4 included、10 IPv6
KVM based
100% owned & colo'd hardware, Own ARIN issued IPs
点此购买 (洛杉矶, CA)
网络信息