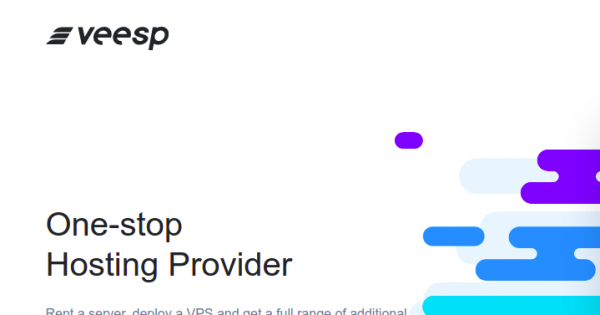 Veesp offer Cheap Offshore VPS 最低 $5每月 + 优惠5%折扣 Code
Please use 优惠券: 56CQO2VCVLS5 for checkout. => 点此购买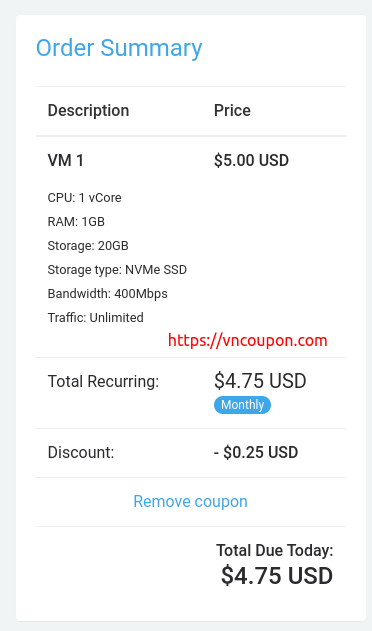 About Veesp
«FNK» was founded 2004年. Starting as a city broadband network, the company has been successfully growing、already by 2009 has already offered a wide range of services to over 10,000 clients in several districts of St. Petersburg, Russia. Under RNet™ brand our company 提供 Internet access, VOIP telephony,、IPTV services.

2011年 the company put into operation its first 数据中心、began to provide server rental、colocation services, as well as virtual private servers under the brand vStoike™.

After rebranding 2017年, vStoike was replaced by Veesp™. Today, the company serves more than 15,000 customers, has several位置 in St. Petersburg,、is present in all major traffic exchange points in Russia and, through its partners – worldwide.
Linux NVMe VPS套餐
=> 点此购买
VM 1
CPU CPU 1 vCore
RAM内存1GB
Storage Storage 20GB
Storage type NVMe SSD
Bandwidth 流量 400Mbps
Traffic Traffic无限
$5每月
VM 2
CPU CPU 1 vCore
RAM内存2GB
Storage Storage 40GB
Storage type NVMe SSD
Bandwidth 流量 400Mbps
Traffic Traffic无限
$10每月
VM 4
CPU CPU 2 vCores
RAM内存4GB
Storage Storage 80GB
Storage type NVMe SSD
Bandwidth 流量 400Mbps
Traffic Traffic无限
$20每月
VM 8
CPU CPU 4 vCores
RAM内存8GB
Storage Storage 160GB
Storage type NVMe SSD
Bandwidth 流量 400Mbps
Traffic Traffic无限
$40每月
My VM 1 NVMe Benchmark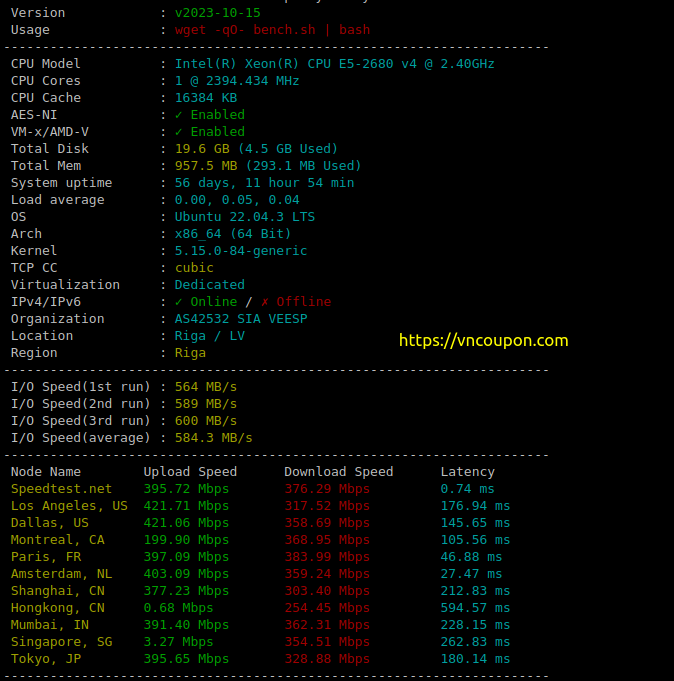 Payment Methods
Payment Card (VISA/Mastercard)
Webmoney/Qiwi
PayPal
Bank 流量
Bitcoin、other cryptocurrencies
网络信息
Russia
测试IPv4: 77.73.67.36
测试IPv6: 2a00:1838:37:40e::79ed
Looking Glass: http://ru-lg.veesp.com/
Latvia
测试IPv4: 212.6.44.33
测试IPv6: 2a0c:16c0:500:3e8::6c53
Looking Glass: http://lv-lg.veesp.com/