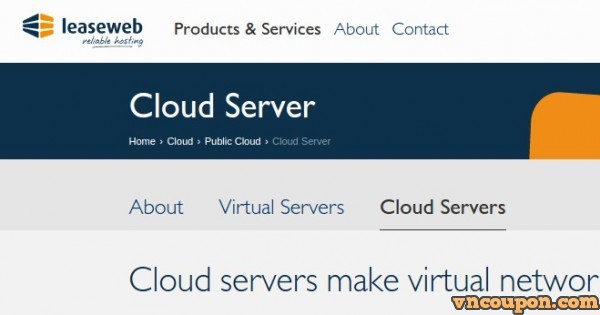 They offering 优惠40% all "S"、"M" size virtual server、云服务器 packages.
Why choose LeaseWeb Public Cloud solutions?
LeaseWeb Public Cloud services are可用 in many位置 around the world running on an enterprise-class virtualization platform. Designed with reliability in mind, their public cloud uses redundant components throughout. What's more, their public 云服务器 come with a 免费firewall、full control via their customer portal、API.
KVM Offer套餐
Virtual servers offer a virtualized, cost-effective alternative to bare metal servers.
Server Pack S
1 Core vCPU
1 GB vRAM
40 GB (SAN Storage, RAID 10)

€

7

.

00 

€

4

.

20

(优惠40%)
Server Pack M
2 Core vCPU
2 GB vRAM
60 GB (SAN Storage, RAID 10)

€

16

.

00 

€

9

.

60 

(优惠40%)
Cloud VPS Offer套餐
Server Pack S
1 Core vCPU
1 GB vRAM
40 GB (SAN Storage, RAID 10)
1 Public IP, 1 Private IP
Load balancing (Optional Addon)

€

13

.

00 

€

7

.

80

 

(优惠40%)
Server Pack M
2 Core vCPU
2 GB vRAM
60 GB (SAN Storage, RAID 10)
1 Public IP, 1 Private IP
Load balancing (Optional Addon)

€

24

.

00 

€

14

.

40

 

(优惠40%)
网络信息