ServaRICA – GPU VPS 提供 最低 $15每月 with AMD FirePro GPUs & NVMe SSD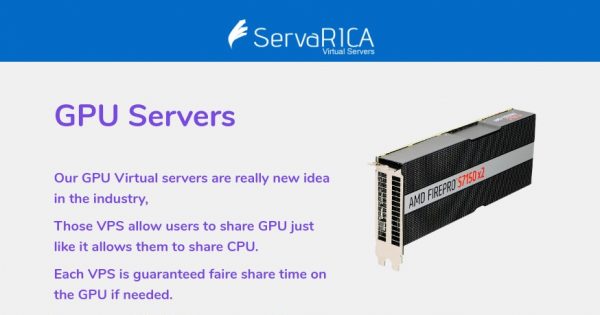 ServaRICA started 2010年 (soon will be 10 years),  They are offering VPS with GPU access which is usually very rare、very expensive.
Those VPS allow users to share GPU just like it allows them to share CPU. Each VPS is guaranteed faire share time on the GPU if needed. You can use this VPS to run any CAD simulation, tensorFlow or anything that may need GPU powers. Some users may even run autopilot games since the vps has GPU access.
Those套餐 are based on E5-2695v2 CPU、AMD FirePro s7150 GPUs. The storage is on SAN (if there is good use for GPU 提供 with SSD or NVMe
GPU VPS Features
CPU is E5-2695v2
AMD FirePro s7150x2
Xen HVM virtualization
Xenserver based
7 days refund policy with no question asked
99.9% SLA
true 24/7 livechat support
GPU VPS Offers
The stock is very limited
GPU VPS 1
1/16 of AMD FirePro s7150 GPU Guaranteed (if no other users use the GPU you can fully use it)
3核CPU shared
3 GB RAM
2 TB 硬盘容量
无限 100mbps 流量
1x IPv4 included
/64 IPv6 included 【免费】 by request
price 15$每月
GPU VPS 2
1/4 of AMD FirePro s7150 GPU Guaranteed (if no other users use the GPU you can fully use it)
3核CPU dedicated
12 GB RAM
8 TB 硬盘容量
无限 100mbps 流量
1x IPv4 included
/64 IPv6 included 【免费】 by request
price 55$每月
They accept Paypal, Credit cards, Alipay、crypto currencies(Bitcoin etc)
Note: they can't do refund if you pay using crypto currencies so please be sure before you pay
网络信息
Server Location: Montreal, Quebec, Canada
测试IPv4: 162.250.188.171
测试IPv6: 2602:ffd5:1:141::1
下载测试s: 100MB
Other Offers:
大硬盘 VPS With 1.5TB 硬盘容量 & 无限 流量 仅 $7每月 => 点击这里
ServaRICA – 6GB内存& 80GB NVMe VPS 仅 $7每月 => 点击这里