HostSolutions.ro – Offshore VPS in Romania – No DMCA – Torrent allowed start 最低 €7EUR每年 – 1GB内存特价机 VPS 仅 $1每月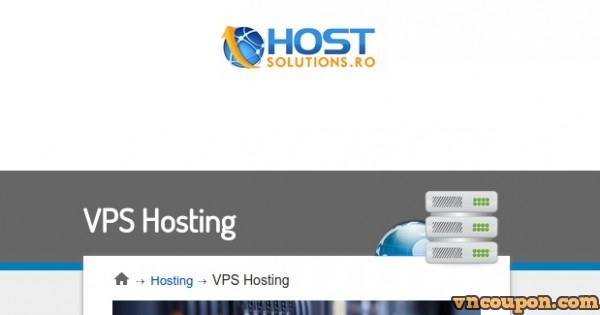 HostSolutions.ro 提供 a wide range of virtual servers (VPS). A Virtual Server is basically a server dedicated to the miniature. By choosing one of their VPS packages offered to benefit from full access to the server,、also you can host 无限 sites.
Note: Located in Romania, DMCA ignore, Torrent allowed.
TOS: http://en.hostsolutions.ro/about/tos/
They offer 优惠49% in all their套餐 from their webpage www.hostsolutions.ro (payed minimum for 1 year using the 优惠券 "夏季storage") 永久 2 times (if you pay 年付 you will have this price durring 2 years. etc)
The delivery time can take 最高9 days (until the day 24.06.2019)、once is delivery they will change the next due date in this case you will not lost nothing.
特价机 VPS Offer
HOT – KVM VPS 1TB
If you need bigger套餐 you can visit this web page using the same 优惠券: kvm30off
Negocieri – 512MB RAM (Amazing 提供 – Very limited stock)
VEL1 – 512 mb内存(Amazing 提供 – Very limited stock)
1GB内存OpenVZ (NEW – HOT)
Offer 1
Offer 2
Offer 3 – 4GB RAM 
+ 大内存 Plan: 点击这里
年付 VPS Offers
64MB Plan
128MB Plan
256MB Plan
Storage VPS Offer
1 gb ram, 100 GB HDD
2 gb内存350 GB HDD
4GB内存& 400GB HDD
Storage VPS – 1 TB VPS (HOT)
Storage VPS – 2 TB VPS
Storage VPS – 4 TB VPS
Note: With Storage VPS, ALL THIS ORDERS WILL BE DELIVERED IN 4-7 DAYS !!!
SSD VPS Offers
SSD-LXC- plan1
SSD-LXC- plan2
独服 Promo – 终身优惠50% 最低 14.5 euro每月: 点击这里
虚拟主机 Offers
Payment Information
You can pay with : Bitcoin , paypal , credit card, banck 流量
5 days money back guarantee too in this offer
网络信息
+ 测试IPv4 1: 86.107.110.19
+ 测试IPv4 2: 82.77.50.229
+ 下载测试 download: 100 MB, 200 MB
1 Benchmark on HostSolutions VPS
System Info

Processor : Intel(R) Xeon(R) CPU X5660 @ 2.80GHz
CPU Cores : 24
Frequency : 2800.293 MHz
Memory : 380541 MB
Swap : 179871 MB
Uptime : 3:22,

OS : Debian GNU/Linux 7
Arch : x86_64 (64 Bit)
Kernel : 2.6.32-48-pve
Hostname : bor3

Speedtest (IPv4 only)

Location商家 Speed
CDN Cachefly 79.8MB/s

Atlanta, GA, US Coloat 11.6MB/s
Dallas, TX, US Softlayer 11.7MB/s
Seattle, WA, US Softlayer 10.1MB/s
San Jose, CA, US Softlayer 9.00MB/s
Washington, DC, US Softlayer 14.2MB/s

Tokyo,日本 Linode 9.07MB/s
Singapore Softlayer 9.61MB/s

Rotterdam, Netherlands id3.net 35.6MB/s

Haarlem, Netherlands Leaseweb 79.8MB/s

Disk Speed

I/O (1st run) : 289 MB/s
I/O (2nd run) : 308 MB/s
I/O (3rd run) : 305 MB/s
Average I/O : 300.667 MB/s