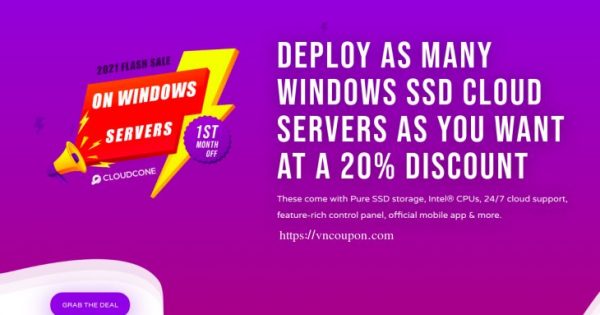 CloudCone offer Exclusive Windows 云服务器. Here's another scary-good deal for you to spin up your dream server this halloween! Come celebrate the season by deploying for 优惠20% in the first month! This offer is 仅 valid for the FIRST 10 USERS so hurry、make it yours by adding the required funds.
Deploy Windows Server 2016 or 2019 with a 20%折扣 at CloudCone. Take advantage of Remote Desktop (RDP) to access your Windows server from an iOS, Android, MacOS or another Windows device from anywhere in the world. Our Enterprise-Grade hardware powered by Intel® CPUs、pure SSD provides you the best overall performance. You can also adjust your throughput speeds to manage 流量 usage on our RDP optimized networks.
Followed by lots of testing, our base plan will start with 3 vCPU Cores、4GB of RAM,、all our套餐 comes with a 免费Windows License included!
Now you can deploy a Windows Server 2016 or 2019 with RDP at CloudCone
洛杉矶, 美国
24/7 Support
Remote Desktop Protocol
Auto-backups
Managed Firewall
One-click Apps
Advance Server Metrics
AnyCast DNS
Windows VPS Offers
Flash2021-Win1
优惠20% 最低 the 1st month's invoice. Renews at $17.49每月.
$13.99/1st Month
3 vCPU Core
4 GB RAM
60 GB RAID-10 SSD
1 x IPv4
3 TB 流量 at 1 Gbps
Flash2021-Win2
优惠20% 最低 the 1st month's invoice. Renews at $32.94每月.
$26.99/1st Month
5 vCPU Core
8 GB RAM
80 GB RAID-10 SSD
1 x IPv4
5 TB 流量 at 1 Gbps
Flash2021-Win3
优惠20% 最低 the 1st month's invoice. Renews at $62.79每月.
$49.99/1st Month
8 vCPU Cores
16 GB RAM
240 GB RAID-10 SSD
1 x IPv4
8 TB 流量 at 1 Gbps
Flash2021-Win4
优惠20% 最低 the 1st month's invoice. Renews at $125.76每月.
$101.00/1st Month
16 vCPU Core
32 GB RAM
500 GB RAID-10 SSD
1 x IPv4
10 TB 流量 at 1 Gbps
NOTE: Add funds to match the relevant plan before deploying
Other 优惠信息
网络信息
Looking Glass: http://la.lg.cloudc.one