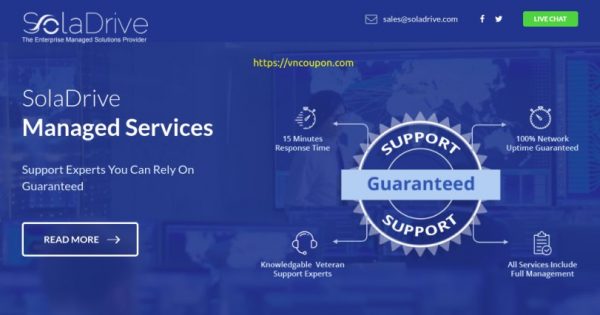 About SolaDrive
SolaDrive has been around since 2009 providing quality Managed VPS, 独服、advanced solutions. We strive for 15-minute response times or better,、with truly redundant networks、100% uptime SLA we able to offer a very reliable service. All of our VPS come fully managed as well, no more worrying about how to setup、manage your server. Leave that to us!
Today, they offer 终身优惠25% on New Fully Managed Ryzen 9 VPS, please use 优惠券: 25WHT at checkout
Fully Managed Ryzen VPS Features
VPS位置: 洛杉矶, CA – 纽约 City – Coventry, UK – Singapore
32 Core Intel Xeon 4210 Servers or Ryzen 9 5900x, NVMe 4.0 SSD Raid-10 (7,000MB/s)
免费VPS Migration
免费Backups made 3x Weekly to offsite server
免费Script installation、configuration
免费CentOS Panel Pro
24/7 Fully Managed by Experienced US Technicians
Instant VPS Activation After Payment
15-Minute Response Times
99.9% Server 正常运行时间保证
免费VPS Migration
Feature packed SolusVM 控制面板
30 Day Money Back Guarantee!
Fully Managed Ryzen VPS套餐
Server Spec: 
– Newest Dual Intel Xeon 4210 Processors (20/40 x 3.2GHz Max Cores/Threads) or AMD Ryzen 9 5900x
– 最高256GB DDR4 ECC Ram
– Supermicro Chassis, Motherboard,、Power Supplies
– Dual redundant power supplies
– True A + B power meaning an entire power grid for "A" could go out、server would still be operational on grid "B"
– 8 x 1TB WD NVMe 4.0 SSD's (Speeds 最高7000 MB/s)
– Raid-10 NVMe Storage
– 1Gbps Port Speeds
SD-2
2 CPU @ 3.0Ghz+
2GB Dedicated RAM
50GB Raid-10 NVMe SSD Storage
2TB Premium 流量
1 Dedicated IP
Fully Managed VPS
Starting 最低 $35.00 USD每月
SD-4
4 CPU @ 3.0Ghz+
4GB Dedicated RAM
100GB Raid-10 NVMe SSD Storage
4TB Premium 流量
1 Dedicated IP
Fully Managed VPS
Starting 最低 $55.00 USD每月
SD-6
6 CPU @ 3.0Ghz+
6GB Dedicated RAM
150GB Raid-10 NVMe SSD Storage
6TB Premium 流量
1 Dedicated IP
Fully Managed VPS
Starting 最低 $75.00 USD每月
SD-8
8 CPU @ 3.0Ghz+
8GB Dedicated RAM
200GB Raid-10 NVMe SSD Storage
8TB Premium 流量
2 Dedicated IP
Fully Managed VPS
Starting 最低 $95.00 USD每月
SD-12
12 CPU @ 3.0Ghz+
16GB Dedicated RAM
500GB Raid-10 NVMe SSD Storage
12TB Premium 流量
2 Dedicated IP
Fully Managed VPS
Starting 最低 $165.00 USD每月
SD-16
16 CPU @ 3.0Ghz+
32GB Dedicated RAM
1000GB Raid-10 NVMe SSD Storage
16TB Premium 流量
2 Dedicated IP
Fully Managed VPS
Starting 最低 $275.00 USD每月
Payment Information
They accept
网络信息
洛杉矶, CA
纽约 City
Coventry, UK
Singapore