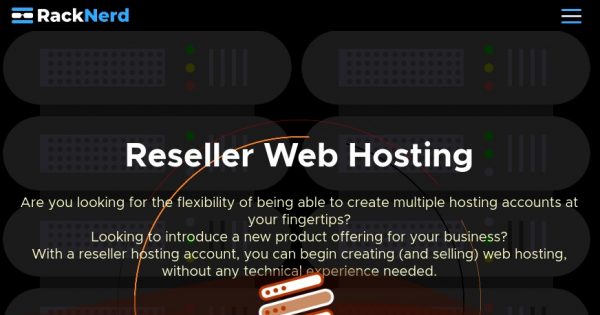 Welcome to new datacenter (LA-05), RackNerd offer 特价机 cPanel 分销型虚拟主机 only $57.8每年
About RackNerd
RackNerd LLC introduces infrastructure stability、provides 独服, Private Cloud solutions, DRaaS (Disaster-Recovery-as-a-Service), flexible Colocation, Virtual Private Servers, 虚拟主机, 分销型虚拟主机、advanced DDoS Mitigation services — maintained by a team with decades of experience in managed services, datacenter operations,、Infrastructure-as-a-Service. With an intrinsic focus on client success、growth, RackNerd has grown steadily while continuing to provide high-quality hosting services at competitive rates.
分销型虚拟主机 Nodes:
– Intel Xeon E3
– 32 GB RAM
– 4x 1TB Enterprise SSD's
– LSI Hardware RAID10
– Dual 1Gbps Uplinks
分销型虚拟主机 Promo Plan
160 GB SSD 硬盘容量
5 TB每月 流量
45 cPanel Accounts
免费SSL Certificates
CloudLinux Powered
Softaculous Script Installer
LiteSpeed Web Server
免费每日备份s Included
cPanel & WHM 控制面板
洛杉矶 DC-02 Location

JUST $57.80每年!
虚拟主机 Powered by cPanel!
RACKNERD- Shared-LEB-20GB
20 GB SSD 硬盘容量
1TB每月 流量
无限 Databases
2 域名
免费SSL Certificates
CloudLinux Powered
Softaculous Script Installer
LiteSpeed Web Server
免费每日备份s Included
cPanel 控制面板
JUST $7每年
RACKNERD- Shared-LEB-50GB
50 GB SSD 硬盘容量
3TB每月 流量
无限 Databases
10 域名
免费SSL Certificates
CloudLinux Powered
Softaculous Script Installer
LiteSpeed Web Server
免费每日备份s Included
cPanel 控制面板
JUST $18每年
=> 特价机 VPS Promo (最低 $19每年): 点击这里
网络信息
One Wilshire Building (RackNerd DC-05-ST) – 洛杉矶, CA, United States
测试IP: 5.181.135.8
下载测试: http://lg-lax05.racknerd.com/1000MB.test
Looking Glass: http://lg-lax05.racknerd.com/