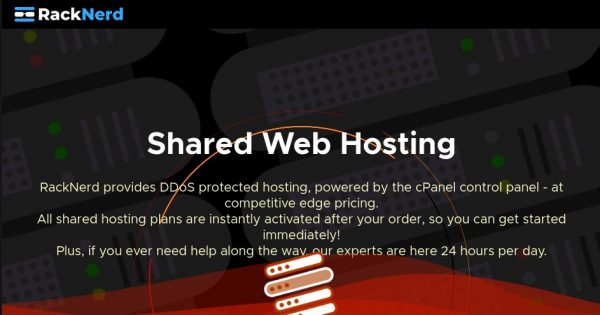 RackNerd introduces infrastructure stability, what everyone desires! RackNerd is led by industry experts providing IaaS (Infrastructure-as-a-Service), Private Cloud solutions, DRaaS (Disaster-Recovery-as-a-Service), load-balanced solutions, flexible Colocation, Virtual Private Servers,、advanced DDoS Mitigation services — maintained by a team with decades of experience in managed services, datacenter operations,、Infrastructure-as-a-Service. With an intrinsic focus on client success, growth,、vision to expand globally, RackNerd has grown steadily while continuing to provide high-quality hosting services at competitive rates.
Note: Today, they are pleased to announce that we have expanded shared、分销型虚拟主机 product line to Singapore! In Singapore, they are located within the Equinix SG2 datacenter、leverage a network blend consisting of GCX, NTT, TATA, Equinix Peering
虚拟主机 Powered by cPanel!
For those curious (generous limits):
CloudLinux LVE Specifications (per cPanel Account):
CPU – 100%
I/O Limit – 80 MB/s
IOPS Limit – 15,000
Physical Memory Limit – 1GB
EPROC (Entry Processes) Limit – 200
NPROC Limit – 220
INODE Limit – No limit
50 GB cPanel 虚拟主机 特价机
50 GB SSD 硬盘容量
2TB每月 流量
无限 Databases
Host 4 域名
免费SSL Certificates
CloudLinux Powered
Softaculous Script Installer
LiteSpeed Web Server
免费Offsite 每日备份s Included (JetBackup)
MailChannels Hybrid – Premium Email Delivery
cPanel 控制面板
Available in 多机房
Starting 最低 $9.98 USD 年付
85 GB cPanel 虚拟主机 特价机
85 GB SSD 硬盘容量
5TB每月 流量
无限 Databases
Host 7 域名
免费SSL Certificates
CloudLinux Powered
Softaculous Script Installer
LiteSpeed Web Server
免费Offsite 每日备份s Included (JetBackup)
MailChannels Hybrid – Premium Email Delivery
cPanel 控制面板
Available in 多机房
Starting 最低 $15.79 USD 年付
150 GB cPanel 虚拟主机 特价机
150 GB SSD 硬盘容量
10TB每月 流量
无限 Databases
Host 无限 域名
免费SSL Certificates
CloudLinux Powered
Softaculous Script Installer
LiteSpeed Web Server
免费Offsite 每日备份s Included (JetBackup)
MailChannels Hybrid – Premium Email Delivery
cPanel 控制面板
Available in 多机房
Starting 最低 $29.88 USD 年付
Reseller 虚拟主机套餐
40 GB 分销型虚拟主机 – cPanel/WHM
40 GB SSD 硬盘容量
2 TB每月 流量
10 cPanel Accounts
免费SSL Certificates
CloudLinux Powered
Softaculous Script Installer
LiteSpeed Web Server
免费每日备份s Included
MailChannels Hybrid – Premium Email Delivery
cPanel & WHM 控制面板
Available in 多机房
JUST $27.99每年
Starting 最低 $27.99 USD 年付
100 GB 分销型虚拟主机 – cPanel/WHM
100 GB SSD 硬盘容量
6 TB每月 流量
25 cPanel Accounts
免费SSL Certificates
CloudLinux Powered
Softaculous Script Installer
LiteSpeed Web Server
免费每日备份s Included
MailChannels Hybrid – Premium Email Delivery
cPanel & WHM 控制面板
Available in 多机房
JUST $55每年
Starting 最低 $55.00 USD 年付
200 GB 分销型虚拟主机 – cPanel/WHM
200 GB SSD 硬盘容量
15 TB每月 流量
40 cPanel Accounts
免费SSL Certificates
CloudLinux Powered
Softaculous Script Installer
LiteSpeed Web Server
免费每日备份s Included
MailChannels Hybrid – Premium Email Delivery
cPanel & WHM 控制面板
Available in 多机房
JUST $89每年
Starting 最低 $89.00 USD 年付
网络信息
测试IPv4: 204.13.154.3
下载测试: http://lg-lax02.racknerd.com/100MB.test
Looking Glass: http://lg-lax02.racknerd.com/
Network Carriers Include: CenturyLink, Cogent, GTT, NTT, 中国电信, 中国联通,中国Net