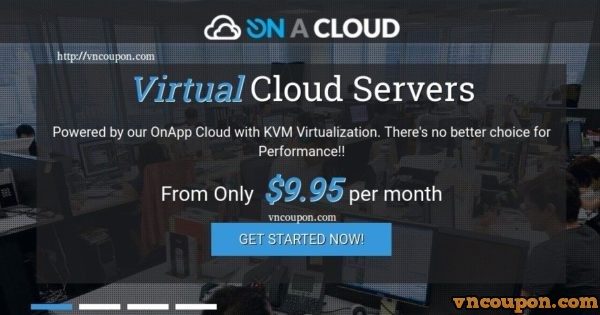 About On A Cloud
On A Cloud – Quality Australian 虚拟主机 & IT Services, 100% Australian Owned & Hosted. On a Cloud was formed 2015年 with the intention to bring back the good old fashioned personal touch to customer support、going above、beyond to provide the best quality service. 
All of Their Servers are currently hosted in the Micron21 Outer Eastern Datacentre in Melbourne, Australia.  Here at On a Cloud they use 仅 DELL Enterprise Hardware、we choose to be hosted with the best.
优惠券
LET70
优惠70% 永久折扣. (Expired)
EOFY17
优惠60% 永久折扣. This 优惠券 is可用 for all VPS & Other Hosting Services
SPOOKY17
优惠60% Australian VPS, 云服务器 & 域名.
2018
To Celebrate the New Year they are giving you 优惠60% all Hosting & VPS Servers
VPS Features
+ Guaranteed Resources! (RAM, CPU & Disk)
+ Flexible, Easy to Use 控制面板
+ KVM Virtualization Technology
+ OnApp Cloud Management Platform
+ 无限 Support & Reimages
+ 99.9% 正常运行时间保证
+ 免费Backups Included – Daily, Weekly,每月 Retention.
+ Dell Enterprise Hardware
+ Fully Redundant 2N Power Feeds per Server
+ Fast, Multi-homed, Redundant Global Network
+ DDOS防护 流量

VPS Promo
VPS Mini (New)
Ram – 1 GB
Disk – 25 GB
Bandwidth – 200 GB
IPv4 – 1 Address
IPv6 – On Request
Location – Melbourne, Australia
Instant Provisioning (After Payment)
$3.20 AUD每月 ( Using 优惠券: LET70 )
$47.76 AUD 年付 ( Using 优惠券: EOFY17 )
VPS Small
Ram – 2 GB
Disk – 50 GB
Bandwidth – 300 GB
IPv4 – 1 Address
IPv6 – On Request
Location – Melbourne, Australia
Instant Provisioning (After Payment)
$29.95AUD每月
$11.98 AUD每月 ( Using 优惠券: EOFY17 )
*At Time of Posting – $3.20 Australian Dollar equals $2.45 US Dollar
*At Time of Posting – $8.98 Australian Dollar equals $6.88 US Dollar
+ Network Info: 点击这里