HostSlick, they are now offering 50% 永久折扣 for all 虚拟主机套餐 for you to try out DirectAdmin!
That means, that the 15€每年 plan will 仅 cost you 7,50€每年 永久!
HostSlick has recently migrated its Premium SSD cPanel WebHosting to a new Panel called DirectAdmin.
Our 虚拟主机, VPS、独服 client base is continously growing, we decided to setup more WebHosting Nodes now as well.
Since DirectAdmin is also the more cost effective for us, it enables us to contiune offering 15€每年 SSD WebHosting套餐.

As you maybe know cPanel/WHM has released a high cost increase for their Licenses which charges 0,20€ per account per month additionally to their increased base prices, which also would mean a price increase for our Clients.
We however did decide to not use cPanel/WHM anymore、offer our clients the not 仅 better but also as mentioned more cost-effective、simpler Solution. DirectAdmin.

DirectAdmin has a similiar User-Interface, which looks more simpler、in our eyes, easier to use for our clients. Its not overwhelmed with loads of unnecessary features but the ones you will need to manage your Projects at the most easiest way.
特价机 DirectAdmin 虚拟主机 提供 (
NEW

)
Hosting Plan III – LET 特价机 (Only 5€每年)
=> 点此购买
DirectAdmin 虚拟主机套餐
Hosting Plan I
10 GB 硬盘容量
100 GB Bandwidth
Unlimited Addon 域名
Unlimited Sub 域名
Unlimited Databases
Unlimited FTP Accounts
Shared IP
15.00€ / year
DDoS防护 – 最高100Gbps
Location – Lelystad, Netherlands (EU)
Hosting Plan II
20 GB 硬盘容量
150 GB Bandwidth
Unlimited Addon 域名
Unlimited Sub 域名
Unlimited Databases
Unlimited FTP Accounts
Shared IP
20.00€ / year
DDoS防护 – 最高100Gbps
Location – Lelystad, Netherlands (EU)
Hosting Plan III
50 GB 硬盘容量
200 GB Bandwidth
Unlimited Addon 域名
Unlimited Sub 域名
Unlimited Databases
Unlimited FTP Accounts
Dedicated IP included
25.00€ / year
DDoS防护 – 最高100Gbps
Location – Lelystad, Netherlands (EU)
虚拟主机 features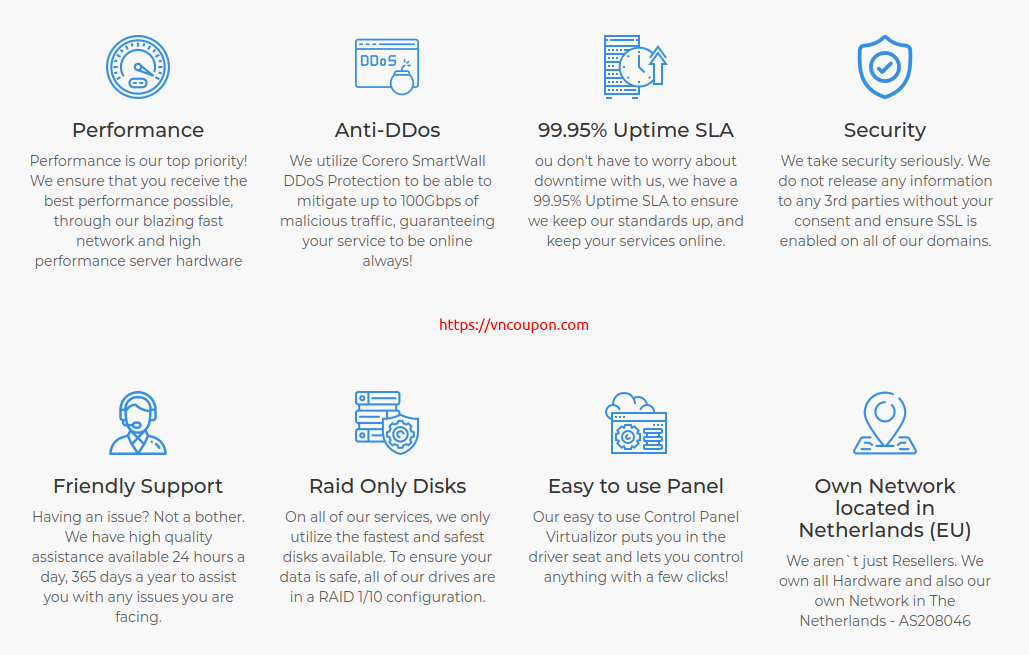 Payment Methods
Sofort Banking (DIRECTebanking)
Giropay Bitcoin (Coinify)
iDeal Paysafecard
Perfect Money
Bank 流量
PayPal Subscription
CreditCard
网络信息
Datacenter: Lelystad, Netherlands (Alticom Media Tower)
下载测试: 5.253.86.28/100mb.test
Ping IP: 5.253.86.28