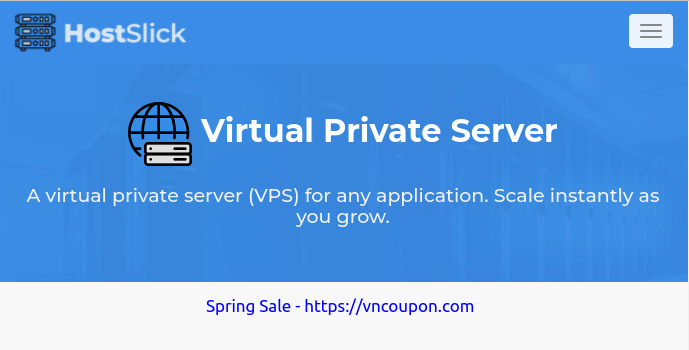 Spring is absolute favorite season here at HostSlick! Colors begin coming back to our lives, the sun starts feeling warmer. There's simply more joy in the air!
For many consumers, spring is also a time to declutter、break old habits. It's a time for change、new beginnings.
HostSlick is offering KVM VPS 最低 15€每年, 2tbit DDoS防护, in Almere, NL
HostSlick Spring sales!
[2022] Spring Sale – Deal I
CPU – 1 vCore
RAM – 1 GB
Bandwidth – 5 TB
SSD Space – 25 GB
Port Speed – 1 Gbps
IPv4 Addresse(s) – 1
IPv6 Addresse(s) – /64 if requested
Operating System – Linux
Location – Almere, Netherlands (EU)
Virtualization Type – KVM
DDoS防护 – Complimentary 最高2tbit
Only 15€每年
[2022] Spring Sale – Deal II
CPU – 2 vCore
RAM – 2 GB
Bandwidth – 5 TB
SSD Space – 50 GB
Port Speed – 1 Gbps
IPv4 Addresse(s) – 1
IPv6 Addresse(s) – /64 if requested
Operating System – Linux
Location – Almere, Netherlands (EU)
Virtualization Type – KVM
DDoS防护 – Complimentary 最高2tbit
Only 25€每年
Payment Methods
Bitcoin、many other altcoins (via Coinify)
Giropay (via Skrill)
SofortBanking/SofortÜberweisung (via Skrill)
PayPal (via 2checkout)
Credit Card (via 2checkout)
SEPA Bank 流量 (Open Ticket for Bankd etails)
PerfectMoney
网络信息
Datacenter: Lelystad, Netherlands (Alticom Media Tower)
下载测试: 5.253.86.28/100mb.test
Ping IP: 5.253.86.28