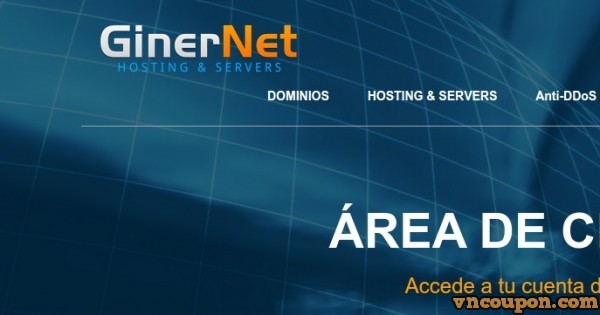 As always, they offer their VPS on SSDs, so they guarantee the best possible performance for your VPS server, you can finally compress or make a backup、to keep working on your VPS as if nothing was happening,、of course ensuring the best possible price.
About GinerNet: GinerNet is a registered company in Spain with registration number ESB54660485. The company was started by a former OVH employee back 2012年.
They accept payments via Bitcoin, Paypal, Credit Card、Bank 流量.
+ Twitter: https://twitter.com/ginernet
+ Facebook: https://127.0.0.1/GinerNet
Node Spec
CPU: Dual Xeon E5620 @ 16 vCores
Memory: 96 GB DDR3
Disk: 4 x Intel 520 series 480GB : RAID-10 soft
AntiDDoS: Voxility防护 IPs in option
Virtualization: OpenVZ
控制面板: SolusVM
VPS Offers
OVZ-2G-LEB-BCN
CPU:2 vCore
Memory: 2 GB RAM
Disk: 15 GB SSD
Switchport: 1 Gbps
Transfer: 300 GB每月
Price: 25 €每年 @ (27.50 USD aprox)
LC-4core
CPU:4 vCore
Memory: 4 GB RAM
Disk: 30 GB SSD
Switchport: 1 Gbps
Transfer: 1 TB每月
Price: 6 €每月
网络信息
+ Looking Glass: http://bcn.ginernet.com/
+ DataCenter: iDataGreen @ Barcelona(Spain)