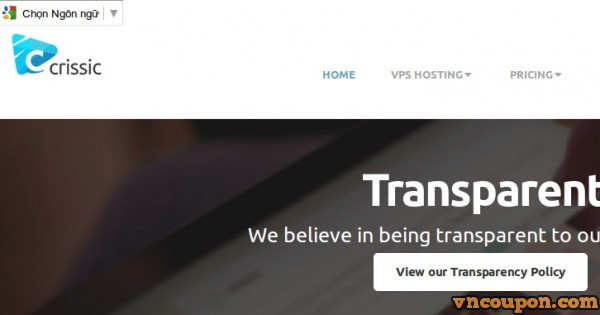 Crissic has over 10 years of industry experience. Their most favorite plan is the $15每年 512MB内存OpenVZ vps plan.
About Us – Crissic Solutions, LLC, is a fast growing, affordable、高性能 虚拟主机 company based in Springfield, Missouri. We offer two product lines, OpenVZ VPS、KVM VPS.
WHMCS Licenses – Crissic is now offering WHMCS Licenses! Branded每月 at $10.30、Unbranded每月 at $12.30. This is可用 as an addon in the cart when you order any of our VPS Packages!
Datacenter Location – All services are located in the GoRack datacenter in Jacksonville, Florida. Located within an operating Federal Reserve branch, the building is heavily fortified with a 24/7 armed federal law enforcement unit、numerous N+1 redundancies for all power、connectivity to the building.
Hardware:
OpenVZ SSD Nodes
CPU – Dual Intel X5650 (Hex Core 2.66GHz)
RAM – 48GB DDR3
Disks – 6 x 512GB SSD Raid 10
OpenVZ HDD Nodes
CPU – Dual Intel X5650 (Hex Core 2.66GHz)
RAM – 48GB DDR3
Disks – 6 x WD RE4 in Raid 10
KVM Nodes
CPU – Dual Intel X5660 (Hex Core 2.80GHz)
RAM – 96GB DDR3
Disks – 12 x WD RE4 in Raid 10
OpenVZ SSD Deals
SVZ256
RAM – 256MB
vSwap – 256MB
CPU Cores – 2
Hard Disk – 20GB (SSD Raid 10)
Bandwidth – 750GB
1 Gbps
1 IPv4 | /64 Subnet IPv6
$2 每月 – | $12 / Year (Order每月) | (Order 年付)
SVZ512
RAM – 512MB
vSwap – 512MB
CPU Cores – 3
Hard Disk – 40GB (SSD Raid 10)
Bandwidth – 2TB 每月
1 Gbps
1 IPv4 | /64 Subnet IPv6
$4 每月 | $24 / Year – (Order每月) | (Order 年付)
SVZ1024
RAM – 1024MB
vSwap – 1024MB
CPU Cores – 4
Hard Disk – 60GB (SSD Raid 10)
Bandwidth – 3TB 每月
1 Gbps
1 IPv4 | /64 Subnet IPv6
$6 每月 | $48 / Year – (Order每月) | (Order 年付)
OpenVZ HDD Deals
OVZ256
RAM – 256MB
vSwap – 256MB
CPU Cores – 2
Hard Disk – 50GB (HDD Raid 10)
Bandwidth – 750GB 每月
1 Gbps
1 IPv4 | /64 Subnet IPv6
$10 / Year – (点此购买)
OVZ512
RAM – 512MB
vSwap – 512MB
CPU Cores – 3
Hard Disk – 100GB (HDD Raid 10)
Bandwidth – 2TB 每月
1 Gbps
1 IPv4 | /64 Subnet IPv6
$15 / Year – (点此购买)
OVZ1024
RAM – 1024MB
vSwap – 1024MB
CPU Cores – 4
Hard Disk – 150GB (HDD Raid 10)
Bandwidth – 3TB 每月
1 Gbps
1 IPv4 | /64 Subnet IPv6
$4 每月 – (点此购买)
OVZ2048
RAM – 2048MB
vSwap – 2048MB
CPU Cores – 4
Hard Disk – 200GB (HDD Raid 10)
Bandwidth – 4TB 每月
1 Gbps
1 IPv4 | /64 Subnet IPv6
$7 每月 – (点此购买)
KVM HDD Deals
KVM512
RAM – 512MB
CPU Cores – 2
Hard Disk – 25GB (HDD Raid 10)
Bandwidth – 2TB 每月
1 Gbps
1 IPv4 | 16 IPv6
$30 / Year – (点此购买)
KVM768
RAM – 768MB
CPU Cores – 2
Hard Disk – 40GB (HDD Raid 10)
Bandwidth – 2.5TB 每月
1 Gbps
1 IPv4 | 16 IPv6
$48 / Year – (点此购买)
KVM1024
RAM – 1024MB
CPU Cores – 3
Hard Disk – 50GB (HDD Raid 10)
Bandwidth – 3TB 每月
1 Gbps
1 IPv4 | 16 IPv6
$7 每月 – (点此购买)
网络信息
Server Location: Jacksonville, Florida, 美国
测试IPv4: 162.218.208.13
测试IPv6: 2602:ffea:a::dead:beef
下载测试s: 25MB 50MB 100MB 250MB 1GB