Visual Web Technologies Exclusive 提供 – 优惠65% 虚拟主机 最低 0.75$每月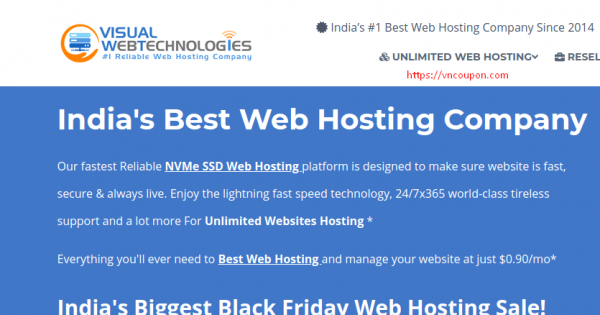 Visual Web Technologies Offers Crazy 黑色星期五 2020 Deals ,premium, feature rich, DDOS防护 cPanel hosting or DirectAdmin NVMe Hosting ensuring your sites have a smooth experience.
Through the Combination of Cloudlinux, Litespeed Web server and Nvme SSD drives For Directadmin Hosting we offer unparalleled performance for your website no matter the size! If you are looking for a fast , reliable、caring 虚拟主机商家 then look no futher then Visual Web Technologies!
优惠信息: Its New Season sale time! Simply use the code BF20 to claim 优惠65% your 虚拟主机 限时 Offer valid for first 25 orders 优惠65% after 25 orders 优惠55% so hurry up!. This is applicable to 年付 billing cycles. Offer is 永久
New Season Sale Time!
Simply use the code **Let65** to claim 优惠65% your 虚拟主机 限时 Offer valid for first 25 orders 优惠60% after 25 orders 优惠55% so hurry up!. This is applicable to 年付 billing cycles. Offer is 永久
cPanel Hosting套餐
XS 虚拟主机 Plan – $7.48每年 OR 0.75$每月
1 GB 硬盘容量
1 域名
10 Sub 域名
10 Email Accounts
10 MySQL Databases
10 FTP Accounts
No CloudLinux
Apache Web Server
cPanel+Softaculous
Small 虚拟主机 Plan – After折扣 $13.60每年 OR 1.5$Month
5 GB 硬盘容量
5 域名
无限 Sub 域名
无限 Email Accounts
无限 MySQL Databases
cPanel+Softaculous
Apache Server
No CloudLinux
无限 FTP Accounts
Medium 虚拟主机 Plan -After折扣 $17.80每年 OR 2$每月
15 GB 硬盘容量
无限 域名
Apache Server
无限 Sub 域名
cPanel+Softaculous
无限 Email Accounts
无限 MySQL Databases
无限 FTP Accounts
No CloudLinux
Large 虚拟主机 Plan – After折扣 $23.00每年 OR 2.5$每月
25 GB 硬盘容量
无限 域名
无限 Sub 域名
无限 Email Accounts
cPanel+Softaculous
无限 MySQL Databases
无限 FTP Accounts
Apache Server
No CloudLinux
Super 虚拟主机 Plan – After折扣 $27.90每年 OR 3$每月
50 GB 硬盘容量
无限 域名
无限 Sub 域名
无限 Email Accounts
cPanel+Softaculous
无限 MySQL Databases
无限 FTP Accounts
Apache Server
No CloudLinux
DirectAdmin Hosting套餐
S 虚拟主机 Plan – $4.28 Year OR 1.19$每月
1 GB 硬盘容量
1 域名
10 Sub 域名
10 Email Accounts
LiteSpeed+ DirectAdmin +Softaculous
10 MySQL Databases
10 FTP Accounts
Small 虚拟主机 Plan – After折扣 $8.04每年 OR 2.4$Month
5 GB 硬盘容量
5 域名
无限 Sub 域名
LiteSpeed+ DirectAdmin +Softaculous
无限 Email Accounts
无限 MySQL Databases
无限 FTP Accounts
Medium 虚拟主机 Plan -After折扣 $10.80每年 OR 3$每月
15 GB 硬盘容量
LiteSpeed+ DirectAdmin +Softaculous
无限 域名
无限 Sub 域名
无限 Email Accounts
无限 MySQL Databases
无限 FTP Accounts
Large 虚拟主机 Plan – After折扣 $14.40每年
25 GB 硬盘容量
无限 域名
无限 Sub 域名
无限 Email Accounts
LiteSpeed+ DirectAdmin +Softaculous
无限 MySQL Databases
无限 FTP Accounts
They currently accept payment: PayPal, Credit/Debit Card, Cards via Stripe Payments, RazorPay (INR Payments)
网络信息
cPanel Location : 美国
DirectAdmin Location : 美国, Luxembourg