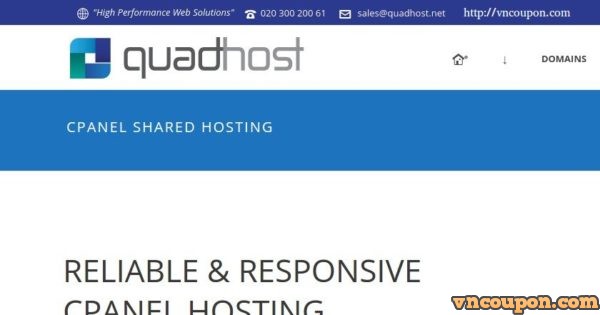 QuadHost Shared hosting is not 仅 reliable (backed with a 99.95% 正常运行时间保证) but is also some of the fastest in the industry being powered by RAID SSD Storage to make your pageload's、database queries 仅 take a fraction of a second.
虚拟主机 Features
+ All accounts are based on a cpanel CloudLinux server with PHP Selector可用.
+ They also have installatron for automated app/software installation.
+ A number of highly requested modules such as ModPageSpeed are also enabled.
+ DDoS防护 is provided by NTT.
+ Looking Glass: http://lg-ldn-uk.quadhost.net/
+ All prices exclude tax, EU residents will be charged tax.
Personal Hosting Plan
Shared CPU
1GB SSD Storage
100GB Premium 流量每月
无限 域名, DNS, Mailboxes & SQL Databases
Shared IP
London, UK
5英镑每年
点此购买
Private Personal Hosting Plan
Shared CPU
5GB SSD Storage
500GB Premium 流量每月
无限 域名, DNS, Mailboxes & SQL Databases
Dedicated IP
London, UK
10英镑每年
点此购买
Premium Private Personal Hosting Plan
Shared CPU
20GB SSD Storage
1TB Premium 流量每月
无限 域名, DNS, Mailboxes & SQL Databases
Dedicated IP
London, UK
15英镑每年
点此购买