HostDoc – KVM VPS from 10.99英镑每年 – 8位置 – 优惠20% Extra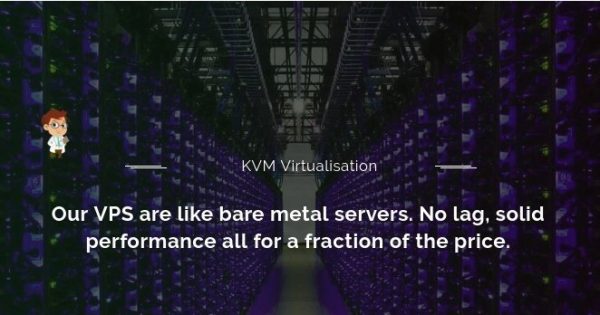 HostDoc Hosting was formed to provide excellence in performance hosting、transparancy of services offered. Their support is friendly,可用 24/7、go the extra mile to ensure your needs are met、handled as you'd expect.
Today, they are pleased to announce the launch of our new location in 美国. Their new location is in Texas, Dallas,、they are pleased to say they can FINALLY offer /64 IPv6 subnets with all of US VM's. @JackHadrill 😉
To celebrate the launch, they are offering 优惠20% all of current plans excluding mini、mini+ plans with code "8preBF".
KVM VPS Plans
Choice of 8 deployable位置.
Full root access.
Virtualizor 控制面板.
Weekly backup & Incremental backup's 3 times per week.
One snapshot restore per month.
KVM Virtualization.
24/7 Technical Support.
Pre-configured、customisable packages.
NoVNC Console.
DDoS Mitigation in all位置.
Instant Deployment
Nested Virtualisation (美国 only)
/64 IPv6 (美国 only)
10gbps Network Port (美国 only)
KVM Mini
1vCore
10GB Disk
128MB 内存
512MB Swap 内存
500GB流量
1 IPv4
DDoS防护
3.25英镑 | $4.30每季度| 10.99英镑每年
Order伦敦
Order France
Order Finland
Order Canada
Order Germany
Order Singapore – 15.99英镑每年
Order Australia – 15.99英镑每年
Order 美国 – 19.99英镑每年
KVM Small
1 vCore
30 GB Disk
512MB 内存
1 GB Swap
500GB流量
1 IPv4
DDoS防护
2.50英镑 2.00英镑每月
Order UK
Order France
Order Finland
Order Canada
Order Germany
Order 美国 – 3.75英镑/m3.00英镑/m
KVM Small APAC
1 vCore
30 GB Disk
512MB 内存
1 GB Swap
200GB流量
1 IPv4
DDoS防护
2.89英镑 2.31英镑每月
Order Singapore
Order Australia
KVM Starter
2 vCores
50 GB Disk
1GB 内存
2GB Swap 内存
1TB流量
1 IPv4
DDoS防护

2.99英镑 2.39英镑每月
Order UK
Order Finland
Order Canada
Order France
Order Germany
Order 美国 – 4.99英镑/m 3.99英镑/m
KVM Starter APAC
2 vCores
50 GB Disk
1GB 内存
2GB Swap 内存
450GB流量
1 IPv4
DDoS防护
3.12英镑 2.50英镑每月
Order Singapore
Order Australia
KVM Medium
2 vCores
70 GB Disk
1GB 内存
2GB Swap 内存
1TB流量
1 IPv4
DDoS防护
4.20英镑 3.36英镑/per month
Order UK
Order Finland
Order Canada
Order France
KVM Medium APAC
2 vCores
70 GB Disk
1GB 内存
2GB Swap 内存
500GB流量
1 IPv4
DDoS防护

4.50英镑 3.60英镑每月
Order Singapore
Order Australia
NVMe SSD KVM Plans
德国– KVM small – 3.50英镑/m £2.80/m
德国– KVM Starter – 4.99英镑/m 3.99英镑/m
美国 – KVM Small – 4.50英镑/m 3.60英镑/m
美国 -KVM Starter – 5.99英镑/m 4.79英镑
测试IP / Looking Glass
United Kingdom
France
Germany
Finland
Canada
Australia
Singapore
美国