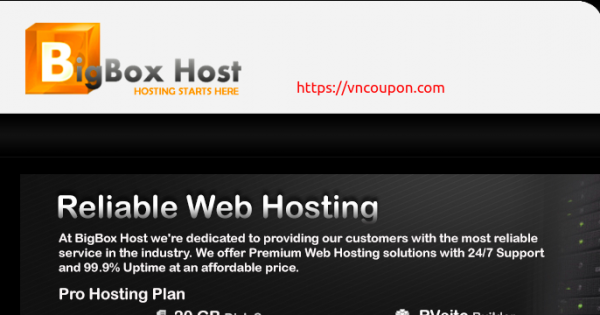 Some 独服 提供 from BigBoxHost
About BigBoxHost
BigBox host a leading 虚拟主机、services company, is part of the BigBox LLC Group, which has been providing quality 虚拟主机 solutions to businesses、individuals since 2010. Our goal is to provide outstanding services for the best possible price. To achieve these goals we are constantly innovating、upgrading our services at no additional cost to our customers.
独服 Offers
Dual Quad Core Xeon L5420 16GB 2x1TB
Dual Xeon L5420 (8 Cores)
16GB RAM
2 x 1 TB HDD
5 IPv4 Usable (/29 IPv4)
10 TB 流量 @ 1gbps port
免费KVM On-Demand
Location: 美国
Cost: $50/mo.
DUAL INTEL XEON L5630 48GB内存250GB SSD/ 1TB HDD
Dual Intel Xeon L5630 16 Core
48 GB DDR3 ECC Memory
250 GB Enterprise SSD or 1 TB Hard Drive
1 Gbps Burstable Port ( 30TB 流量 )
Dell iDRAC Remote Management
Unmanaged
Cost: $75/mo.
Payment methods
Paypal, Payza, Bitcoin, PayuMoney. Credit Card/Debit card accepted through PayPal, Payza,、PayU
网络信息
Lenoir, NC, 美国
测试IP: 192.254.70.108
下载测试: http://192.254.70.108/file.zip