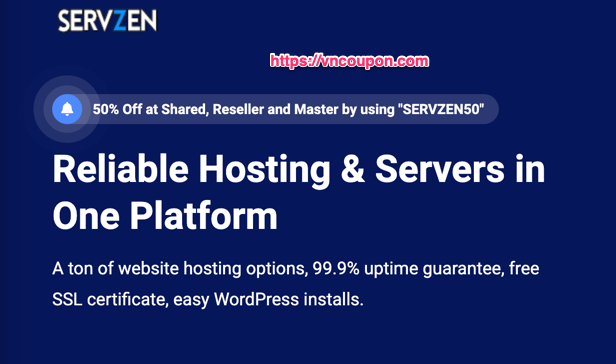 Servzen is offering fastest, affordable hosting services to the customers around the globe. They have friendly customer support to help & support their clients. We are currently providing 虚拟主机, 分销型虚拟主机, Virtual Private Servers、独服 hosted in Netherlands (offshore).
Deals below start as low as $5.50每年!  优惠50% at Shared, Reseller、Master by using "SERVZEN50"
All套餐 include 无限 流量. Upgraded packages allow more 域名、more disk. You can choose to pay每月 if you wish but at these prices, lock in the year.
Hosting Features
DirectAdmin 控制面板
免费SSL、CDN
2000Gbit of DDOS防护
无限 DA Features
无限 流量
99.9% uptime
SSD included each plan
WordPress One click installer
Softaculous Auto Installer
Custom Nameservers for Resellers
虚拟主机套餐
Starter DirectAdmin Hosting
10GB 硬盘容量
2 域名
无限 Sub域名
无限 Email Accounts
无限 MySQL Databases
无限 FTP Accounts
无限 流量
Promo: SERVZEN50 (applies on 年付套餐)
$1.21每月 or $5.50每年 (prices after 优惠券s/discounts)
Enterprise DirectAdmin Hosting
25GB 硬盘容量
3 域名
无限 Sub域名
无限 Email Accounts
无限 MySQL Databases
无限 FTP Accounts
无限 流量
Promo: SERVZEN50 (applies on 年付套餐)
$2每月 or $9每年 (prices after 优惠券s/discounts)
Ultimate DirectAdmin Hosting
DirectAdmin Hosting
无限 硬盘容量
无限 域名
无限 Sub域名
无限 Email Accounts
无限 MySQL Databases
无限 FTP Accounts
无限 流量
Promo: SERVZEN50 (applies on 年付套餐)
$5每月 or $20每年 (prices after 优惠券s/discounts)
网络信息
HostSlick Germany
Location: Lelystad, Netherlands
测试IPv4: 185.196.220.200
测试IPv6: 2a0f:ca80:0000:00d5:0000:0000:0000:0001
下载测试: https://lg-nl.servzen.com/100MB.test
Looking glass: https://lg-nl.servzen.com/