[Singles Day 11.11] pCloud – 优惠75% Premium Cloud Storage Plan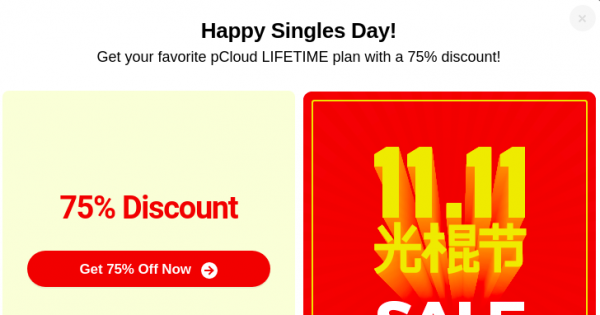 pCloud is offering a Singles Day (11.11) offer (优惠75%) for their lifetime cloud storage for 48 hours
=> Promo Link
About pCloud
Based in Switzerland, we are a young forward-thinking team doing our best to make a significant impact on the rapidly growing IT market.

At pCloud, we're providing the world with a comprehensive easy-to-use cloud storage solution for individuals、businesses alike. Our approach incorporates the technical point-of-view with the end user in mind. Other cloud services are either too technical、are not user-friendly, or they are not comprehensive enough for users to get everything they want out of cloud storage.

This is why we founded pCloud 2013年 to combine our strong IT skills with the vibrant creativity of our growing team to create a cloud storage solution that works seamlessly for both individuals、businesses.

Today we are over 8 million users strong、growing rapidly.
Offer套餐