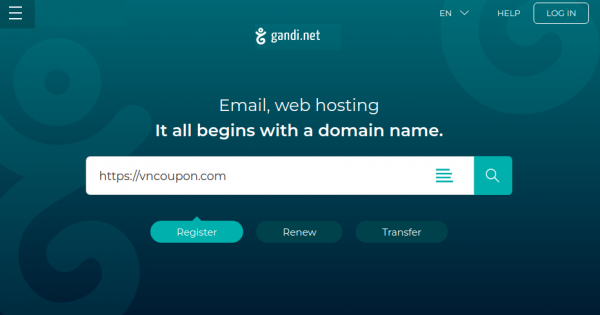 Get your first .COM, the world's most popular extension. €1 the 首年.
About Gendi.net
GANDI.net was one of the first 域名 name registrars approved by ICANN for .COM, .NET, .ORG, .BIZ, .INFO, .NAME, .BE, .FR, .EU 域名 in France. We now offer over 750+ top-level 域名,、we continue to add more on a regular basis. At Gandi, we consider ourselves an ethical 域名 name registrar in an industry that has some 'grey' practices. We value our customers' rights、privacy above all else,、defend these wherever、whenever possible.
Huge sale on .com!
This 十月 get the 首年 of your first .com 域名 for just $1.00*. That's the cost of a cup of coffee at a diner or a song on iTunes.、for one month only—from 十月9 through 十一月9—it's the price of an entire year's worth of your 域名 name—DNS, two email accounts, email forwarding, an SSL certificate,、WHOIS privacy.
Why get a .com?
By far, .com is the most popular 域名 name out there. Stop the average person on the street、they probably couldn't name another one.
How to get a .com?
The 优惠信息only applies to new 域名 CREATIONS
The 优惠信息only applies to NEW customers (account created less than 30 days ago).
The 优惠信息also applies to bundles.
The 优惠信息is limited to one 域名 name.
*Price listed in USD. See .com info page for local pricing.