Exabytes –圣诞节 & Year End 2017 Sale – $3.99 for .COM – Hostings @ $12/ year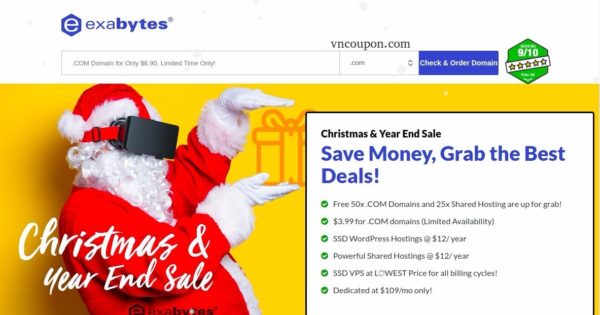 Backed by 16 years of solid experience, Exabytes powers its 75,000 worldwide customers (from individuals, small、medium sized businesses, to government、public listed companies) with the 3 most important values in mind: Simplify, Innovate、GROW, using the power of technology.
Christmas & Year End 2017 Sale
1 – 免费50x .COM 域名、25x 虚拟主机 are up for grab!
You must make a minimum of $10 purchase of active product on exabytes.com billing within 20th DEC 2017 to 31st DEC 2017 to join this lucky draw.
Winner will be chosen from a random draw of entries received in accordance with these Terms、Conditions.
2 – .COM 域名 for As Low As $3.99 Only! 
Limited Availability, Grab Now!
Get the famous .COM address
FREE DNS Management
3 – SSD WordPress Hostings @ $12/ year
WordPress Hosting for As Low As $0.99 Only. Set your website up for success with WordPress
Get started quickly with pre-built websites
Hosted on SSD Drive – 10x faster than normal hosting
=> 点此购买 (Promo plan) | WordPress Hosting套餐
4 – Powerful 虚拟主机s @ $12/ year
Create a website or blog @ $0.99 with Exabytes 虚拟主机!
FREE SSL (https) + FREE 每日备份 to secure your website.
1-click installation for 300+ 免费applications. (WordPress, Joomla, Drupal, etc.)
Create professional looking Branded Email Addresses
5 – SSD VPS at LOWEST Price for all billing cycles!
Super Fast SSD VPS for As Low As $6.99 LOWEST Price on all Billing Cycle!
Full root access – highly customizable
Monitored Security、Optimized Performance – Without any additional cost
=> 点此购买 (Promo plan) | SSD VPS套餐
6 – Dedicated at $109/mo only!
独服 @ $109/mo! Limited Units可用 (First Come, First-Served)
Guaranteed 高性能 for your websites & applications.
Hosted in: US, Singapore, Malaysia & Indonesia 数据中心
=> 点此购买 (Promo plan) | Dedicated套餐