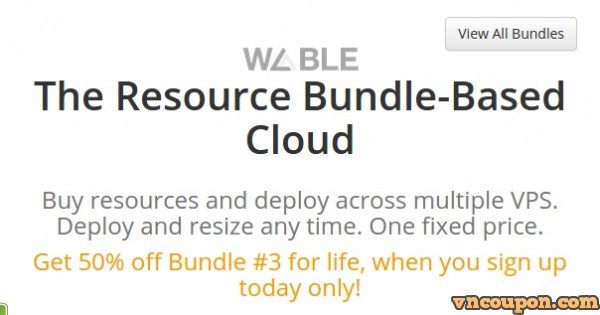 Wable – The Resource Bundle-Based Cloud. Buy resources、deploy across multiple VPS. Deploy、resize any time. They offer
Three city deployment, Dallas, Seattle, NYC
Owned hardware
SSAE 16 datacenters
140gig network
2-20gig per node
Redundant pure SSD storage
Snapshots/cloning
live resizing (up or down)
resource bundles, spin up many or just one VPS with your resources
the peace of mind of being operated by Incero, which has been in business since 2008
VZ infrastructure with reboot-less kernel updates, many nodes with over 1 year uptime!
Bundle #3 plus the 免费powerboost
1-3 VPS (upgraded to 1-5 VPS with powerboost)
3 CPUs (upgraded to 5 CPUs with powerboost)
2GB内存(upgraded to 6GB with powerboost)
50GB RAID SSD (upgraded to 80GB with powerboost)
deploy in Dallas, Seattle, or NYC, use all位置, one location, whatever you want!
Cost $8每月
Powerboost Link 

(only works on Bundle #3 or higher)

To use the promo, 注册 at wable, choose bundle 3 or higher, pay for your bundle, then come back here、click the powerboost link, you will see your resources increase
Note: Effective 六月1st 2016 Wable's VPS service will be 按小时计费 for VPS、upgrades. There will no longer be "resource bundles" as a part of the service. 
网络信息