VPS 提供 – Valentine's day 特价机 with huge折扣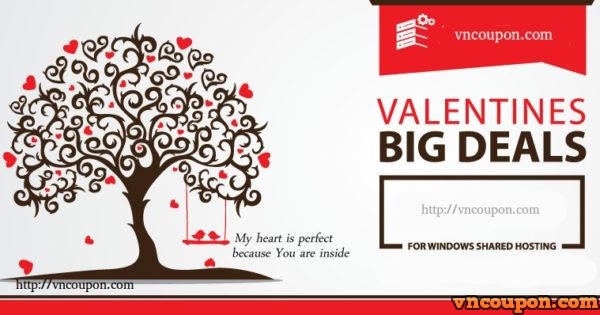 Hostens.eu – 50%折扣 for first payment
You will receive additional 50%折扣 for first payment with 优惠券 code when ordering 年付:
Valid for annual VPS orders till 2017-02-15. 点此购买
AlphaVPS – Holiday specials with huge折扣
Holiday 6G
– 6GB Dedicated 内存
– 45GB SSD
– 2TB Bandwith
– 4 Shared CPU Core
– 1gbps Port
– 1 IPv4 IP
– UK or BG or NY or DE
– OpenVZ
– 6.30 euros per month
点此购买!
1QCloud.com ♥ Valentine's 特价机 ♥ 终身优惠50%
终身优惠50%
优惠券 supply limited, HURRY while it lasts!
VALENTINE50
VikingLayer – Love is in the air!
The code is: SPREADTHELOVE、will give you 20%永久折扣.
Valid for the next week. 点此购买
QuadHost – 优惠33% 虚拟主机、OpenVZ & KVM
You can get 优惠33% 虚拟主机、OpenVZ & KVM individual instances、resource pools with 优惠券: VALENTINE17 => 点此购买
HostSailor – 优惠20% First Month VPS Servers
Discount: 优惠20% First Month Using 优惠券 Code:
HS20LOVE
免费20Gbps DDoS防护 – Romania Location => 点此购买
More offers:
+ Vultr Cloud double credit: https://yezhu.in/vultr-fund-your-account-now-and-get-up-to-100-free-credit/
+ Virmach VPS 特价机: https://yezhu.in/virmach-huge-yearly-savings-ssd-vps-from-5year/
+ Linode introduce $5 Instances: https://yezhu.in/linode-introduces-5-usd-cloud-instances/
ThemeJunkie – 节省 25% on Themes: This Month Only!
This month only, we're excited to let you know that you can 节省 25% on all ThemeJunkie's WordPress themes、packages. Which means you could grab:
All Themes Package: 50+ WordPress themes, with one year of support, for $36.75 (usually $49)
Lifetime Package: 50+ WordPress themes, with lifetime support、access to future themes, for $74.25 (usually $99)
Just use the code 25二月 when placing your order, or click below to automatically apply your saving. 点此购买