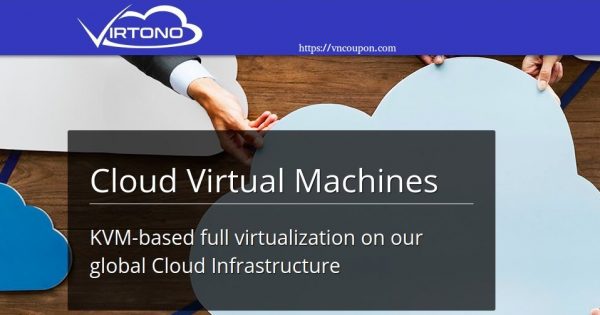 Virtono provide Managed (shared, reseller and dedicated )、Unmanaged (vps, cloud vm and dedicated ) 云服务器 services.
About Virtono
Since our founding 2014年, we happily served thousand of clients from all over the world、we continually searched new ways to deliver on our mission: High Quality at Fair Prices. We are now very proud that we discovered、adjusted the right combination between qualitative、affordable 虚拟主机 solutions.

We built our team around colleagues with valuable experience in 虚拟主机, virtualization, cloud infrastructure、customer support. Our management has over 15 years of executive experience in Romanian's top telecom companies.
They offer in 6 Cloud位置 in 欧洲: Bucharest, RO – Manchester, UK – The Hague, NL – Frankfurt, DE – Oslo, Norway(new) – Copenhaga, Denmark(new) .
优惠券 & 优惠码
优惠50% Your First Payment. Redeem this offer by 十月7, 2023, using 优惠码: WB092350
Use 优惠券 WBEU3523 at checkout,、you'll receive a 35% lifetime折扣 on all other VPS套餐 from the Madrid, Stockholm, Oslo, Prague, Vienna, or Sofia 数据中心s:
Use 25OFFSJLET 优惠券 at checkout、节省 25% lifetime. This 优惠券 is可用 for ALL services from www.virtono.com website
Use LET25OFF 优惠券 at checkout、节省 25% lifetime. This 优惠券 is可用 for ALL services
Get an extra 10%折扣 using the 优惠券 

LET10EXTRA

Use 优惠券: let15extra 优惠券 at checkout、receive 15% lifetime折扣.
Cloud VPS套餐
Enjoy increased power, flexibility,、control for your websites、applications.
高性能 at unbeatable prices
29 Neutral Datacenters Around the World
Multiple IPv4、IPv6 addresses
=> [ Promo Link ]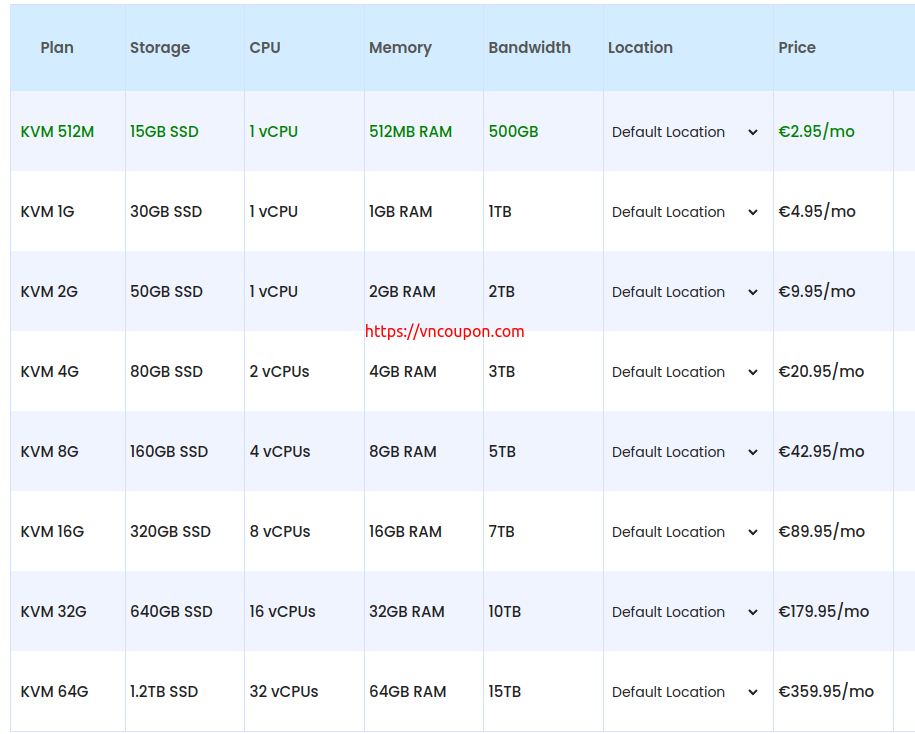 The payment methods are: PayPal, Credit Card, Coingate, Alipay & Bank 流量.
+ SSD VPS offers: 点击这里
+ 虚拟主机 Offers: 点击这里
网络信息
EUROPE
Oslo, Norway 🇳🇴
Hostname: osl-no-ping.virtono.com
IPv4: 194.102.175.2 – osl-no-ping.virtono.com
IPv6: 2a0e:1d80:31:0012:0000:0000:0000:0001 – 6osl-no-ping.virtono.com
Speed 下载测试 Link: http://osl-no-ping.virtono.com/1GB.bin
Dublin, Ireland 🇮🇪
Hostname: dub-ie-ping.virtono.com
IPv4: 85.121.237.2 – dub-ie-ping.virtono.com
IPv6: 2a0e:1d80:33:0009:0000:0000:0000:0001 – 6dub-ie-ping.virtono.com
Speed 下载测试 Link: http://dub-ie-ping.virtono.com/1GB.bin
Sofia, Bulgaria 🇧🇬
Hostname: sof-bg-ping.virtono.com
IPv4: 80.97.96.2 – sof-bg-ping.virtono.com
IPv6: 2a0e:1d80:26:001f:0000:0000:0000:0001 – 6sof-bg-ping.virtono.com
Speed 下载测试 Link: http://sof-bg-ping.virtono.com/1GB.bin
Prague, Czech Republic 🇨🇿
Hostname: prg-cz-ping.virtono.com
IPv4: 81.181.27.2 – prg-cz-ping.virtono.com
IPv6: 2a0e:1d80:30:0009:0000:0000:0000:0001 – 6prg-cz-ping.virtono.com
Speed 下载测试 Link: http://prg-cz-ping.virtono.com/1GB.bin
Vienna, Austria 🇦🇹
Hostname: vie-at-ping.virtono.com
IPv4: 194.153.230.2 – vie-at-ping.virtono.com
IPv6: 2a0e:1d80:29:0000:0000:0000:0000:0001 – 6vie-at-ping.virtono.com
Speed 下载测试 Link: http://vie-at-ping.virtono.com/1GB.bin
Copenhagen, Denmark 🇩🇰
Hostname: cph-dk-ping.virtono.com
IPv4: 85.120.84.3 – cph-dk-ping.virtono.com
IPv6: 2a0e:1d80:28:001d:0000:0000:0000:0001 – 6cph-dk-ping.virtono.com
Speed 下载测试 Link: http://cph-dk-ping.virtono.com/1GB.bin
Budapest, Hungary 🇭🇺
Hostname: bud-hu-ping.virtono.com
IPv4: 194.102.227.3 – bud-hu-ping.virtono.com
IPv6: 2a0e:1d80:27:0019:0000:0000:0000:0001 – 6bud-hu-ping.virtono.com
Speed 下载测试 Link: http://bud-hu-ping.virtono.com/1GB.bin
Zurich, Switzerland🇨🇭
Hostname: zrh-ch-ping.virtono.com
IPv4: 80.97.41.2 – zrh-ch-ping.virtono.com
IPv6: 2a0e:1d80:23:0023:0000:0000:0000:0001 – 6zrh-ch-ping.virtono.com
Speed 下载测试 Link: http://zrh-ch-ping.virtono.com/1GB.bin
Bruxelles, Belgium 🇧🇪
Hostname: bru-be-ping.virtono.com
IPv4: 80.97.40.2 – bru-be-ping.virtono.com
IPv6: 2a0e:1d80:22:0006:0000:0000:0000:0001 – 6bru-be-ping.virtono.com
Speed 下载测试 Link: http://bru-be-ping.virtono.com/1GB.bin
Milan, Italy 🇮🇹
Hostname: mil-it-ping.virtono.com
IPv4: 217.156.50.2 – mil-it-ping.virtono.com
IPv6: 2a0e:1d80:21:0016:0000:0000:0000:0001 – 6mil-it-ping.virtono.com
Speed 下载测试 Link: http://mil-it-ping.virtono.com/1GB.bin
Belgrade, Serbia 🇷🇸
Hostname: beg-rs-ping.virtono.com
IPv4: 85.122.125.2 – beg-rs-ping.virtono.com
IPv6: 2a0e:1d80:19:0033:0000:0000:0000:0001 – 6beg-rs-ping.virtono.com
Speed 下载测试 Link: http://beg-rs-ping.virtono.com/1GB.bin
Warsaw, Poland 🇵🇱
Hostname: war-pl-ping.virtono.com
IPv4: 81.181.104.2 – war-pl-ping.virtono.com
IPv6: 2a0e:1d80:17:0011:0000:0000:0000:0001 – 6war-pl-ping.virtono.com
Speed 下载测试 Link: http://war-pl-ping.virtono.com/1GB.bin
Paris, France 🇫🇷
Hostname: par-fr-ping.virtono.com
IPv4: 81.181.109.7 – par-fr-ping.virtono.com
IPv6: 2a0e:1d80:12:0001:0000:0000:0000:0001 – 6par-fr-ping.virtono.com
Speed 下载测试 Link: http://par-fr-ping.virtono.com/1GB.bin
Amsterdam, Netherlands 🇳🇱
Hostname: ams-nl-ping.virtono.com
IPv4: 81.181.110.18 – ams-nl-ping.virtono.com
IPv6: 2a0e:1d80:10:000a:0000:0000:0000:0001 – 6ams-nl-ping.virtono.com
Speed 下载测试 Link: http://ams-nl-ping.virtono.com/1GB.bin
Stockholm, Sweden 🇸🇪
Hostname: stk-se-ping.virtono.com
IPv4: 81.181.111.7 – stk-se-ping.virtono.com
IPv6: 2a0e:1d80:11:0009:0000:0000:0000:0001 – 6stk-se-ping.virtono.com
Speed 下载测试 Link: http://stk-se-ping.virtono.com/1GB.bin
Madrid, Spain 🇪🇸
Hostname: mad-es-ping.virtono.com
IPv4: 194.53.137.2 – mad-es-ping.virtono.com
IPv6: 2a0e:1d80:13:095e:0000:0000:0000:0001 – 6mad-es-ping.virtono.com
Speed 下载测试 Link: http://mad-es-ping.virtono.com/1GB.bin
Manchester, United Kingdom 🇬🇧
Hostname: man-uk-ping.virtono.com
IPv4: 81.181.108.19 – man-uk-ping.virtono.com
IPv6: 2a0e:1d80:0005:59cc:0000:0000:0000:0001 – 6man-uk-ping.virtono.com
Speed 下载测试 Link: http://man-uk-ping.virtono.com/1GB.bin
London, United Kingdom 🇬🇧
Hostname: lon-uk-ping.virtono.com
IPv4: 193.226.76.2 – lon-uk-ping.virtono.com
IPv6: 2a0e:1d80:25:0007:0000:0000:0000:0001 – 6lon-uk-ping.virtono.com
Speed 下载测试 Link: http://lon-uk-ping.virtono.com/1GB.bin
Frankfurt, Deutschland 🇩🇪
Hostname: fra-de-ping.virtono.com
IPv4: 193.226.77.7 – fra-de-ping.virtono.com
IPv6: 2a0e:1d80:0002:0c5f:0000:0000:0000:0001 – 6fra-de-ping.virtono.com
Speed 下载测试 Link: http://fra-de-ping.virtono.com/1GB.bin
Bucharest, Romania 🇷🇴
Hostname: buc-ro-ping.virtono.com
IPv4: 45.15.23.16 – buc-ro-ping.virtono.com
IPv6: 2a0e:1d80:0001:00b0:0000:0000:0000:0001 – 6buc-ro-ping.virtono.com
Speed 下载测试 Link: http://buc-ro-ping.virtono.com/1GB.bin
North America
Montreal, Canada 🇨🇦
Hostname: qc-ca-ping.virtono.com
IPv4: 85.122.124.2 – qc-ca-ping.virtono.com
IPv6: 2a0e:1d80:18:0007:0000:0000:0000:0001 – 6qc-ca-ping.virtono.com
Speed 下载测试 Link: http://qc-ca-ping.virtono.com/1GB.bin
Dallas, Texas 🇺🇸
Hostname: dal-us-ping.virtono.com
IPv4: 80.96.157.2 – dal-us-ping.virtono.com
IPv6: 2a0e:1d80:0006:0009:0000:0000:0000:0001 – 6dal-us-ping.virtono.com
Speed 下载测试 Link: http://dal-us-ping.virtono.com/1GB.bin
洛杉矶, California 🇺🇸
Hostname: lax-us-ping.virtono.com
IPv4: 194.53.136.5 – lax-us-ping.virtono.com
IPv6: 2a0e:1d80:0008:0656:0000:0000:0000:0001 – 6lax-us-ping.virtono.com
Speed 下载测试 Link: http://lax-us-ping.virtono.com/1GB.bin
Miami, Florida 🇺🇸
Hostname: mia-us-ping.virtono.com
IPv4: 81.181.106.15 – mia-us-ping.virtono.com
IPv6: 2a0e:1d80:0003:002d:0000:0000:0000:0001 – 6mia-us-ping.virtono.com
Speed 下载测试 Link: http://mia-us-ping.virtono.com/1GB.bin
纽约, 纽约 🇺🇸
Hostname: nyc-us-ping.virtono.com
IPv4: 81.181.107.7 – nyc-us-ping.virtono.com
IPv6: 2a0e:1d80:0009:0031:0000:0000:0000:0001 – 6nyc-us-ping.virtono.com
Speed 下载测试 Link: http://nyc-us-ping.virtono.com/1GB.bin
ASIA
Tokyo,日本 🇯🇵
Hostname: tok-jp-ping.virtono.com
IPv4: 80.96.156.2 – tok-jp-ping.virtono.com
IPv6: 2a0e:1d80:20:000d:0000:0000:0000:0001 – 6tok-jp-ping.virtono.com
Speed 下载测试 Link: http://tok-jp-ping.virtono.com/1GB.bin
香港 🇭🇰
Hostname: hk-ping.virtono.com
IPv4: 80.97.46.22 – hk-ping.virtono.com
IPv6: 2a0e:1d80:14:0046:0000:0000:0000:0001 – 6hk-ping.virtono.com
Speed 下载测试 Link: http://hk-ping.virtono.com/1GB.bin
Singapore 🇸🇬
Hostname: sin-sg-ping.virtono.com
IPv4: 194.102.181.33 – sin-sg-ping.virtono.com
IPv6: 2a0e:1d80:0015:0b14:0000:0000:0000:0001 – 6sin-sg-ping.virtono.com
Speed 下载测试 Link: http://sin-sg-ping.virtono.com/1GB.bin
OCEANIA
Sydney, Australia 🇦🇺
Hostname: syd-au-ping.virtono.com
IPv4: 80.97.44.2 – syd-au-ping.virtono.com
IPv6: 2a0e:1d80:24:000e:0000:0000:0000:0001 – 6syd-au-ping.virtono.com
Speed 下载测试 Link: http://syd-au-ping.virtono.com/1GB.bin