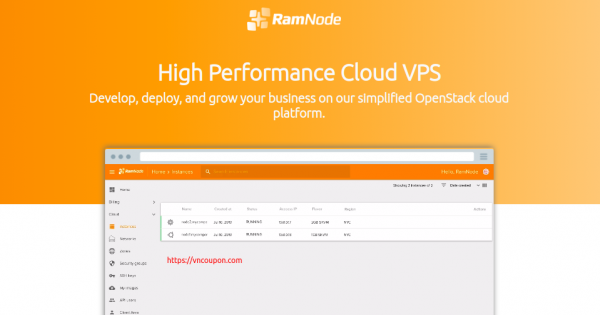 RamNode – OpenStack Cloud 优惠信息!
They are excited to announce that OpenStack Cloud is now可用! You can 注册 through our newly redesigned website, add at least $5 in Cloud Credit,、log into the Cloud 控制面板 to launch a new instance!
Want to give their new cloud platform a try? Already using it、need to add a few more instances? Take advantage of this 限时 offer!
Get an extra 35% Cloud Credit!
How does it work?
注册, add at least $5 in Cloud Credit,、they will match it by 35%!
In other words, add $10、we will give you $3.50 in credit. Add $20、we give you $7. Add $100, you get $35, etc.
If you already have an account, add credit、open a ticket with subject CLOUD35.
Notes:
Matching credit will be added within 24 hours.
Limited to one use per customer.
Does not apply for moving general account credit to cloud.
Only for Cloud (KVM, VDS) service. Does not apply for OpenVZ VPS.
What's New?
There are several new features可用 through the Cloud 控制面板:
Image / ISO uploads
Snapshots / backups
Cloud-config with cloud-init user-data
Private networking
Security groups
OpenStack API
In addition to these features, cloud services are 按小时计费 with the option to prepay for cloud credit or pay for what you use with a credit card on file. Hourly prices are listed on website, as well as the prices for image storage、流量 overages.