[Winter Sale] OVH So You Start – 优惠25% Dedicated Game Servers Promo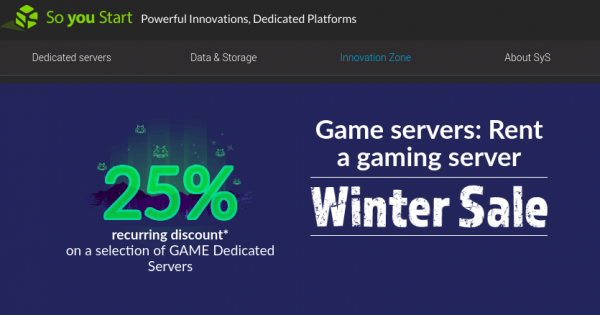 OVH happy to announce the recurrent offer on So you Start, on GAME-1 & GAME-2 [Game Servers] on both FR / CA (BHS) datacenter. It's a 终身优惠25%!
Performance

 and 

innovation

 in the gaming world
Benefit from the latest innovations for your game server. The So you Start Game range gives you machines specially designed to host your games、give you optimal specifications, all with minimal latency. With the So you Start Game server rental range, you can host your Minecraft, Team Fortress 2, Counter Strike games, as well as your services, such as Mumble、TeamSpeak.
So You Start Offers: 优惠25%永久 GAME-1 & GAME-2
优惠信息al price valid until you cancel your service. Offer可用 while stocks last.
You can check the 优惠信息here: https://www.soyoustart.com/ca/en/game-servers/

$3.00 CAD 每月 /IP. SoYouStart Game servers are not compatible with Windows server.
Included with your server:
16 IPs with no每月 fees
Anti-DDoS
250 Mbps流量
100 GB Backup Storage
90 Environments
Optional server add-ons:
Failover IPs
Express KVM IP
Firewall
Backup +
USB Key