HostWithLinux – 1GB 内存 OpenVZ 香港 VPS 最低 $4每月, 2Gbps Network Port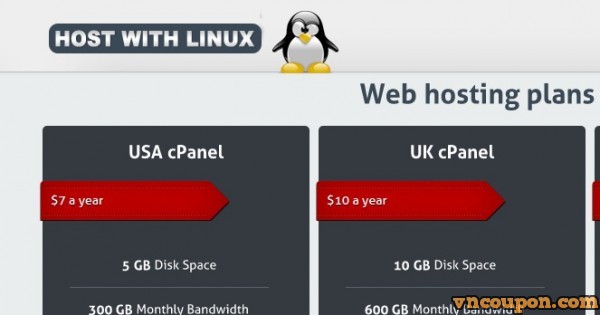 HostWithLinux's premium VPS packages provide the perfect mix of quality、affordability perfect for individuals with a low budget、high expectations! Their VPS plans in 香港 have direct connectivity to中国, allowing for as low as 10ms ping times. Their 香港 location is also on a full 2Gbps network for fast speeds,、all incoming流量 is UNMETERED、free!
★ Uptime – 100% uptime is our top priority. They aim is to keep your VPS online、loading fast all the time.
★ Support – They offer a range of support options including email, ticket、live chat with out average support time being within one hour on a Monday to Friday.
★ Low Prices – They manage their own servers allowing us to provide you with excellent service at some of the best prices in the industry.
★ High Performance Servers – All their high performance Xeon servers with RAID run the latest, 最高date software versions. They also utilize full duplex 1Gbps or 2Gbps internet connections!
VPS Features
Full root access to install whatever you need
Dedicated 内存
Self Managed (support provided for minor issues)
Fast disk I/O (<200 MB/s)
High performance network
Low number of VPS's per node
Wide range of operating system templates to choose from
香港 VPS Plans
HK 1GB OpenVZ VPS – $4 a month
1024MB Guaranteed 内存
30GB SSD Cached Disk
1 High Performance Xeon CPU Core
2TB Premium流量 @ 2Gbps
FREE, Unmetered Incoming流量
1 IPv4 Address & 20 IPv6
SolusVM 控制面板
香港 Datacenter
点此购买 (售罄)
HK 2GB OpenVZ VPS – $5 a month
2048MB Guaranteed 内存
50GB SSD Cached Disk
2 High Performance Xeon核CPU
4TB Premium流量 @ 1Gbps
1 IPv4 Address & 20 IPv6
SolusVM 控制面板
香港 Datacenter
点此购买  (售罄)
网络信息
Extra IP's are just $1 each, with justification.
香港 测试IPv4: 119.81.130.170
香港 Test File: 100MB