HostNamaste – 特价机 KVM VPS 最低 $15每年 in US & EU位置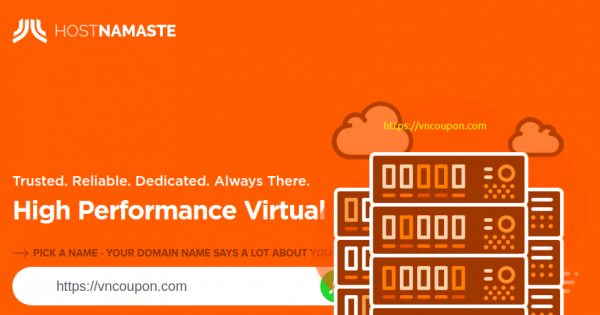 HostNamaste sent a new exclusive to 野猪优惠码(yezhu.in) users for their KVM lineup of services hosted in 洛杉矶, Dallas, Jacksonville、France. 特价机 KVM VPS 最低 $15每年 & Hybrid Server 最低 $20每月 in 洛杉矶, Dallas, Jacksonville, 美国、France.
About HostNamaste
HostNamaste is a company that was started in 三月2016、has continued to offer hosting ever since. We are focused primarily in the LowEnd market, but it is our philosophy to provide quality services while within the LowEnd market's price range. While this is certainly the goal of many LowEnd hosting companies, we have been quietly providing our services for nearly 4 years with no complaints or issues whatsoever. We are particularly proud to offer many features that cannot often be offered by many LowEnd companies, including 24.7 support, a 30-day money back guarantee, RAID-10 disks、dual processor nodes.
特价机 KVM VPS 最低 $15每年
All options include:
Multiple O/S Choices
Complete Root Access
KVM with SolusVM 控制面板
PTR / rDNS support
500Mbps to 1Gbps Uplink
Multiple Operating Systems
Multiple Server位置
$15每年/KVM VPS
256MB RAM
256MB vSWAP(高速虚拟内存)
15 GB Storage
1 TB 流量
1 x vCPU Cores
1 x IPv4 Address
1 x IPv6 Address
Multiple OSes
Full Root Access
PTR/rDNS Support
KVM + SolusVM
洛杉矶, Dallas, Jacksonville、France位置
$15每年
KVM-1024 VPS at 仅 $25每年
1G RAM
1G vSWAP(高速虚拟内存)
30GB Storage
1024GB 流量
1 x核CPU
1 x IPv4 Address
1 x IPv6 Address
Complete Root/SSH Access
KVM + SolusVM Panel Access
PTR/rDNS Supported
Multiple Operating Systems
美国、France, Europe位置
$25每年
KVM-2048 VPS at 仅 $40每年
2G RAM
2G vSWAP(高速虚拟内存)
60GB Storage
2048GB 流量
2 x核CPU
1 x IPv4 Address
1 x IPv6 Address
Complete Root/SSH Access
KVM + SolusVM Panel Access
PTR/rDNS Supported
Multiple Operating Systems
美国、France, Europe位置
$40每年
KVM-3072 VPS at 仅 $60每年
3072MB RAM
3072MB vSWAP(高速虚拟内存)
80GB Storage
3072GB 流量
2 x核CPU
1 x IPv4 Address
1 x IPv6 Address
Complete Root/SSH Access
KVM + SolusVM Panel Access
PTR/rDNS Supported
Multiple Operating Systems
美国、France, Europe位置
$60每年
特价机 Hybrid KVM Server 最低 $20每月
8GB Hybrid KVM Server
8 GB RAM
100 GB Storage
2 TB 流量
3 x核CPU
/29 – 5 x IPv4 Addresses
/29 – 5 x IPv6 Addresses
KVM + SolusVM Access
PTR/rDNS Supported
Multiple Operating Systems
Multiple Server位置
$20每月 优惠券: 20PERMONTHHYBRIDSERVER
16GB Hybrid KVM Server
16 GB RAM
400 GB Storage
4 TB 流量
4 x核CPU
/29 – 5 x IPv4 Addresses
/29 – 5 x IPv6 Addresses
KVM + SolusVM Access
PTR/rDNS Supported
Multiple Operating Systems
Multiple Server位置
$40每月 优惠券: 40PERMONTHHYBRIDSERVER
32GB Hybrid KVM Server
32 GB RAM
500 GB Storage
8 TB 流量
8 x核CPU
/29 – 5 x IPv4 Addresses
/29 – 5 x IPv6 Addresses
KVM + SolusVM Access
PTR/rDNS Supported
Multiple Operating Systems
Multiple Server位置
$60每月 优惠券: 60PERMONTHHYBRIDSERVER
网络信息
洛杉矶 California, 美国
Dallas, Texas, 美国
Jacksonville, Florida, 美国
Roubaix/Strasbourg, France, Europe