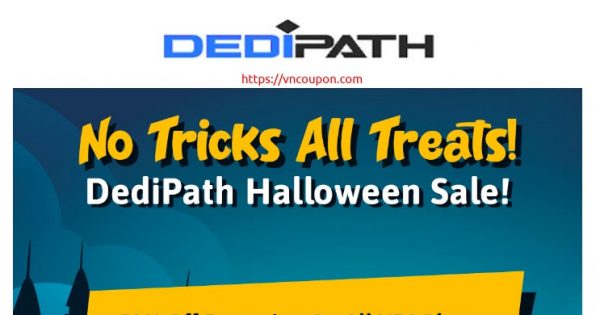 To celebrate Halloween 2021 Sale, DediPath offer 优惠50% 永久 VPS、Hybrid Servers in 10位置!
Please use 优惠券: halloween5021 at checkout!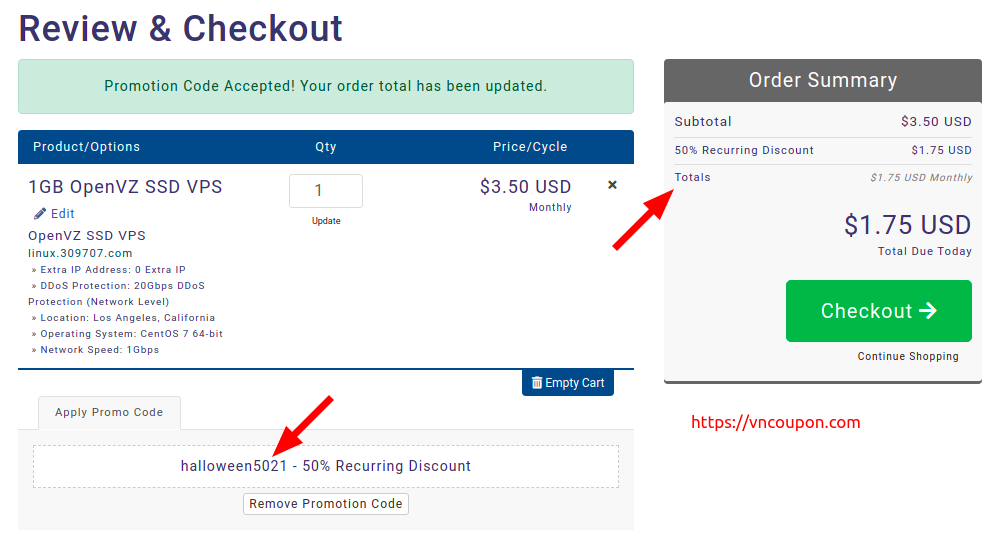 About DediPath
DediPath is 商家 of infrastructure as a service (IaaS). With a collective 50+ years in IT, managed services,、colocation experience DediPath's founders are focused on creating a strong brand that is focused on providing the best service、support at a highly competitive price.
Halloween 2021 OpenVZ VPS Sale
1GB OpenVZ SSD VPS
1GB RAM
2 x Cores
30GB SSD Space
2 IPv4
2 TB 流量
20 GBps DDoS防护
OpenVZ
Normally $3.50/m
Sale price with 优惠券: halloween5021 – $1.75/m
2GB OpenVZ SSD VPS
2GB RAM
2 x Cores
60GB SSD Space
2 IPv4
3 TB 流量
20 Gbps DDoS防护
OpenVZ
Normally $6.50/m
Sale price with 优惠券: halloween5021– $3.25/m
3GB OpenVZ SSD VPS
3GB RAM
2 x Cores
90GB SSD Space
2 IPv4
4 TB 流量
20 Gbps DDoS防护
OpenVZ
Normally $9.50/m
Sale price with 优惠券: halloween5021 – $4.75/m
4GB OpenVZ SSD VPS
4GB RAM
3 x Cores
120GB SSD Space
2 IPv4
5 TB 流量
20 Gbps DDoS防护
OpenVZ
Normally $12.50/m
Sale price with 优惠券: halloween5021– $6.25/m
5GB OpenVZ SSD VPS
5GB RAM
3 x Cores
150GB SSD Space
2 IPv4
6 TB 流量
20 Gbps DDoS防护
OpenVZ
Normally $15.50/m
Sale price with 优惠券: halloween5021– $7.75/m
6GB OpenVZ SSD VPS
6GB RAM
4 x Cores
180GB SSD Space
3 IPv4
7 TB 流量
20 Gbps DDoS防护
OpenVZ
Normally $18.50/m
Sale price with 优惠券: halloween5021 – $9.25/m
Halloween 2021 KVM VPS Sale
1GB KVM SSD VPS
*Best Deal*
1GB RAM
1 x Cores
10GB SSD Space
1 IPv4
2 TB 流量
20 Gbps DDoS防护
KVM
Normally $6.50/m
Sale price with 优惠券: halloween5021 – $3.25/m
2GB KVM SSD VPS
2GB RAM
2 x Cores
20GB SSD Space
2 IPv4
3 TB 流量
20 Gbps DDoS防护
KVM
Normally $10.50/m
Sale price with 优惠券: halloween5021– $5.25/m
3GB KVM SSD VPS
3GB RAM
2 x Cores
30GB SSD Space
2 IPv4
4 TB 流量
20 Gbps DDoS防护
KVM
Normally $14.50/m
Sale price with 优惠券: halloween5021 – $7.25/m
4GB KVM SSD VPS
4GB RAM
2 x Cores
40GB SSD Space
2 IPv4
5 TB 流量
20 Gbps DDoS防护
KVM
Normally $18.50/m
Sale price with 优惠券: halloween5021– $9.25/m
5GB KVM SSD VPS
5GB RAM
3 x Cores
50GB SSD Space
2 IPv4
6 TB 流量
20 Gbps DDoS防护
KVM
Normally $22.50/m
Sale price with 优惠券: halloween5021 – $11.25/m
6GB KVM SSD VPS
6GB RAM
3 x Cores
60GB SSD Space
3 IPv4
7 TB 流量
20 Gbps DDoS防护
KVM
Normally $26.50/m
Sale price with 优惠券: halloween5021– $13.25/m
Halloween 2021 Hybird Servers Sale
Intel Xeon E3-1270v2 – 4GB内存– 110GB SSD
4GB RAM
110GB HDD
2核CPU
30TB 流量
1Gbps Port
5 IPs
Normal Price: $28每月
Price with 优惠券: halloween5021– $14每月
Intel Xeon E3-1270v2 – 4GB内存– 250GB HDD
4GB RAM
250GB HDD
2核CPU
30 TB 流量
1Gbps Port
5 IPs
Normal Price: $23每月
Price with 优惠券: halloween5021– $11.50month
Intel Xeon E5-2630L – 4GB内存– 250GB HDD
4GB RAM
250GB HDD
4核CPU
30 TB 流量
1Gbps Port
5 IPs
Normal Price: $29每月
Price with 优惠券: halloween5021 – $14.50每月
Intel Xeon E5-2630L – 8GB内存– 500GB HDD
8GB RAM
500GB HDD
8核CPU
30 TB 流量
1Gbps Port
5 IPs
Normal Price: $49每月
Price with 优惠券: halloween5021 – $24.50每月
Intel Xeon E5-2630L – 8GB内存– 240GB SSD
8GB RAM
240GB SSD
8核CPU
30 TB 流量
1Gbps Port
5 IPs
Normal Price: $53每月
Price with 优惠券: halloween5021– $26.50每月
Intel Xeon E5-2630L – 16GB内存– 1TB HDD
16GB RAM
1TB HDD
8核CPU
30 TB 流量
1Gbps Port
5 IPs
Normal Price: $69每月
Price with 优惠券: halloween5021 – $34.50每月
Intel Xeon E5-2630L – 16GB内存– 500GB SSD
16GB RAM
500GB SSD
8核CPU
30 TB 流量
1Gbps Port
5 IPs
Normal Price: $73每月
Price with 优惠券: halloween5021 – $36.50每月
Payment Method
PayPal
Credit Card
Alipay
Bitcoin
网络信息
洛杉矶, CA Looking Glass: http://lg.lax.dedicontrol.com/
NYC Metro Looking Glass: http://lg.dc03.dedicontrol.com/
Jacksonville, FL Looking Glass: http://lg.dc08.dedicontrol.com/
Denver, CO Looking Glass: http://lg.den.dedicontrol.com/
拉斯维加斯, NV Looking Glass: http://lg.dc07.dedicontrol.com/
Atlanta, GA Looking Glass: http://lg.atl.dedicontrol.com/
Dallas, TX Looking Glass: http://lg.dal.dedicontrol.com/