FtpIt – Get 优惠70% for 3 months on an Atlanta SSD VPS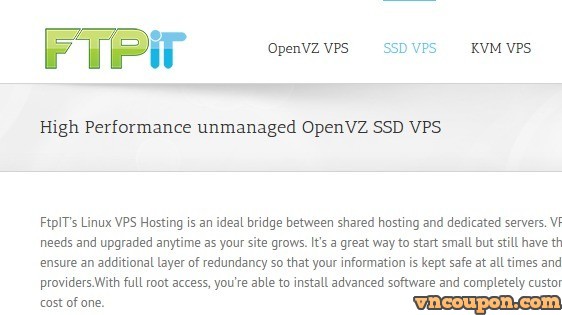 They have recently launched our Atlanta OpenVZ location. While it is steadily growing, They'd like to offer a折扣 to their active customers to get the box up、running to full capacity quickly.
优惠券 which折扣 you 70% for the first 3 months of service
Note: 仅 for Atlanta Location
Their OpenVZ is a container-based virtualization technology for Linux. OpenVZ creates secure, isolated containers on a single physical server to ensure better server utilization、that applications do not conflict. Each container performs、executes exactly like a stand-alone server; a container can be rebooted independently、have root access, users, IP addresses, memory, processes, files, applications, system libraries、configuration files.
SSD OpenVZ套餐
SSD1
2 CPU Core
512 MB RAM
10 GB SSD space
1 TB 流量
1 IPv4
OpenVZ & SolusVM
Price: $2.99每月
SSD2
SSD3
SSD4
SSD5
网络信息
Contact them