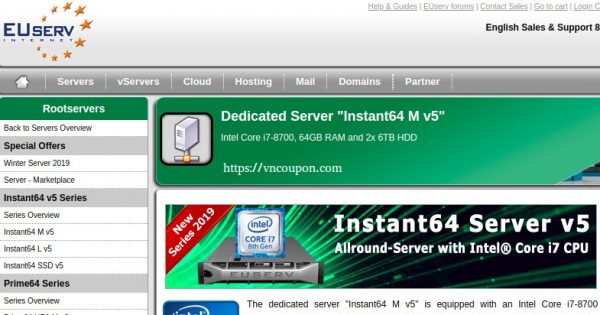 Today I received a email from EUserv with this offer:
独服 "Instant64 M v5"
The 独服 "Instant64 M v5" is equipped with an Intel Core i7-8700 processor、has 64GB of内存and two large 6TB SATA3 hard drives, which have been released for 24×7 operation. The root server is connected to the Cisco based EUserv network with 1Gbps 流量.
The server is ideal for any administrator as a platform for high-performance web projects, 虚拟主机, virtualization or as a game server.
=> 点此购买
安装费s:
Paid每月 &每月 Contract period: 95€
Paid每月 & Contract for 12 months: 53€
Paid 年付 & Contract for 12 months: 53€
Detail Features Server Plan "Instant64 M v5"
Hardware
Processor (CPU)
Intel Core i7-8700
(Coffee Lake)
Frequency
6x 3,2 Ghz, Turbo 4,6 Ghz, 12MB Cache
Virtualization Support
Architecture
64Bit, 6-Core+ HT
RAM
64 GB DDR4
Harddisk
2x 6000 GB
Harddisk Type
SATA3
RAID
Softraid 0/1
Network Card
1x 1 Gbit
Network + Traffic
Network connection
connection speed to a dedicated switchport
1x 1 Gbit/s
Bandwidth
unmetered ¹
¹: All traffic usage is included、without further charge (flat fee). We do not cap connection speed. This means server has 无限 / unmetered 流量.
Services
diskless remote Rescue-System
24×7 SSH access without booting from harddisk
Remote Reboot
reboot server 24×7 via customer 控制面板
免费Reinstall
reinstall server 24×7 via customer 控制面板
免费OS-Change
change operating system via customer 控制面板
Reverse DNS
personalize Reverse DNS-entries of IP-addresses
FTP-Backup
network storage for backups
100 GB
graphical 流量 Utilization
MRTG graphs
IPv4-Addresses
免费of charge
1
additional IPv4
1 EUR per IP / mo
yes, optional 最高49
IPv6-Addresses
免费of charge
1
additional IPv6
1 EUR per IP / mo
yes, optional 最高49
IPv6-netblocks
免费of charge
1x /64
additional IPv6-Subnets
–
Postinstall scripts
run own shell-scripts after installation of the server
Live Monitoring System*
live health monitoring of the server
Failover-IP
use IP-address on more than one server
*) LMS is still under development、comes in a customer-usable beta status.
Service Level + Guarantee
| | | |
| --- | --- | --- |
| Hardware | lifetime server replacement | free |
| Network SLA | Network availability p.a. | 99,90% |
Operating Systems
Linux
Linux based OS
free*
BSD
FreeBSD / OpenBSD
free
Windows
Windows Server
2008R2 / 2012 / 2012R2 / 2016 (self installed via KVM-over-IP, no support)
add your own licence
Own Windows Server licence
Install your own purchased Windows Server licence
*) Additional licences may needed for full usage depending on selected OS or Admin-Panel.
Help + Support
| | | |
| --- | --- | --- |
| Community support | 免费forum membership | |
| Documentation | via EUserv wiki | |
| FAQ | via EUserv FAQ system | |
| 24×7 Email support | Queue based Ticket System | |
| Phone support | Support via English、German speaking inhouse staff during business hours | |
About EUserv
After a long preparation time the hosting – brand "EUserv"was founded in 一月2005. Euserv operates as a web host of dedicated root servers, webspace、域名 budget-conscious users. Meanwhile, EUserv also 提供 独服、high availability services for professionals.

The company is one of three business areas of the ISPpro Internet KG from the technology region of Jena in Thuringia. The successful、experienced Internet Service商家 is trusted since 1998 from tens of thousands customers due to its powerful、innovative service offerings.