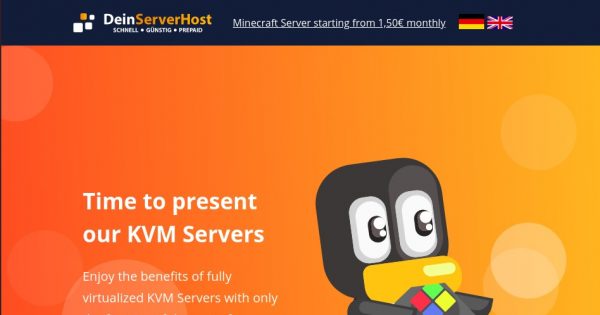 DeinServerHost we are having a 特价机 VPS & 独服 deal 仅 published on 野猪优惠码 Site. They is a german dedicated / game / VPS商家 founded 2013年. We aim to offer you a high quality service for an affordable price.
KVM SSD Premium – KVM NVMe Flex G5
1 Intel Xeon / AMD Epyc vCore
1GB RAM
10GB SSD
1x IPv6
250GB 流量 @ 100Mbit/s
1€ (1,17$) 每月
IPv4可用 as addon for 1€每月
独服 Sonderposten – Amd Ryzen 3700X Custom LET
Ryzen 3700X CPU (8 Cores 16 Threads)
32GB DDR4 RAM
1TB HDD
1Gbit/s uplink
30TB FairUse Traffic Flat
1x IPv4 (more for 1,20€/mo)
1x IPv6 /112
40€ (46,65USD)/mo 0€ Setup
All  servers are currently hosted in Germany, Frankfurt am Main、come with Combahton (Fastpipe) DDoS防护.